RC COCKPIT SX M-LINK TELEMETRY 2.4GHz [7Ch.] | MP25133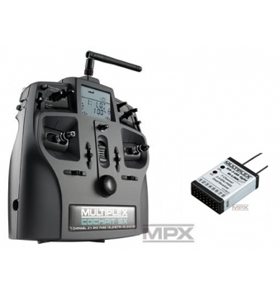 Product Overview
COCKPIT SX M-LINK , the popular remote control for forward-looking beginners and demanding hobby pilots was upgraded again. Now, up to 8 sensor values ​​in the transmitter screen will be displayed. There is also the COCKPIT SX M-LINK now available in three different equipment and different colors, so that the personal preferences can be better taken into account. So they reach for! the new aggressive design with yellow stick handles made ​​of black anodized aluminum. With firmware V3.04 besides the ability to display up to 8 sensor values ​​in the transmitter display were a number of other requests from COCKPIT SX M-LINK meets pilots. Thus, this system offers more than any other remote control in its class!
General
7 fully proportional control channels 
Telemetry capability (up to 8 sensor values ​​in the display readable) 
Versatile mixer and set of planes and helicopters models (eg, 4-flap wing, CCPM head, 5-point throttle curve) 
2 timers, supplementary transmitter operating time 
Easy operation by generous, clear display, well thought out menu structure and 3-D digi-adjuster 
Fully Finished with all the controls 
Digital trims, flight phase load
MULTIPLEX multi (transmitter battery, PC interface for software updates, data management, teacher / student - and simulator operation) 
Modern, ergonomically efficient case design 
Light weight (<800 g with battery) 
Long operating time (> 15 hours with standard battery) 
2.4 GHz transmission technology M-LINK integrated 
Low latency, high resolution 
Servo pulse rate convertible (14/21 ms) 
Expo values ​​flight phase adjustable 
18 model memories 
8 control modes, including 4 gas to slide 
Gas Check (OFF position before turning mandatory) 
Phase switch: Planes 3 phases, helis 4 phases 
Transmitter battery-guard 
Teacher / pupil mode (selective) 
Language selection German / English 
Dual Rate and Expo 
3 free mixers per model memory 
Gyro sensitivity for each flight phase individually adjustable. 
Special Features for Airplanes Specifications
Combi-Switch optional cross> Page or Page> cross 
V-tail mixer for models with V-tail 
DELTA mixer for deltas and flying wings
Comprehensive mixer for sailplanes with 2 - and 4-valve, eg differentiation for ailerons and flaps separated spoiler> cross, spoilers> Flap (Butterfly), Flap> cross (for thermal and speed), height> cross and height> flap, switchable (snap-flap) 
Elevator compensation mixer 
- for Spoiler: Spoiler> Height (elevator compensation for airbrakes / spoilers) 
- for flap: Flap> height (elevator compensation for flaps, zBThermik, Speed) 
- for gas:> height (elevator compensation for gas) 
"Donor-FIX" function by pressing a button, a fixed value for the accessed aileron, elevator, rudder are (automatic aerobatics, starting offset for F3K SAL models, ...) 
Electronic Y-Cable Signal Any servo (channel 1-6) can also output on channel 7 and regardless of the source signal set (rotation, center, paths). Application example: model with 2 separate spoiler or elevator servos
Specifications
Frequency Band: 2.4 GHz
Mode of transmission: FHSS M-LINK
Power Channels: 7
Current consumption: 60 mA
Memory model: 18
Servo signal format: 1.5 + / - 0.55 ms (at 100% range)
Power supply: 6 cells, Mignon (AA)
Weight: about 760 g (with battery)
Dimensions (L x W x H): 90 x 185 x 50 mm
Special Features for Model Helicopters
5-point throttle and pitch curve for each flight phase separately adjustable
Static tail rotor compensation (REVO-mix): For pitch + / pitch separately adjustable
Swashplate mixer (CCPM): For the current systems 3-point 120 °, 3 (4)-point 90 °, Home
Virtual swashplate rotation
Gaslimiterfunktion with direct throttle function
Gyro gain: for each flight phase individually adjustable.
If your COCKPIT SX M-LINK still has an older firmware version than 3.04, it can simply use the free "MULTIPLEX Launcher is updated. " This is a PC-cable.
Send Inquiry