CALMATO Alpha 40 Sports EP/GP Compatible [Blue] | 11237BLB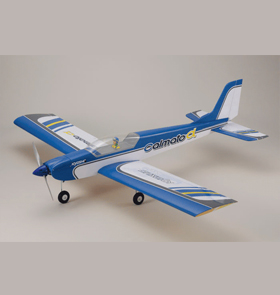 Product Oveview
When its time to graduate from a beginner trainer, the next step could be this stylish low wing sports plane. The option of either EP or GP in the CALMATO ALPHA 40 Sports allows you to choose your preferred power source. Both embody the definitive stability of the CALMATO series with optimal maneuverability allowing low wing airplane beginners to fly stunts like loops and rolls. In addition, this kit is factory assembled and expertly pre-covered in quality film with printed coloring and Kyosho's comprehensive design and construction ensures no gluing is required.
  The main wing halves are joined with an aluminum pin and can be separated for compact and easy transport. Motor mount, engine mount, tires, spinner and linkage parts are all included. Only a few separate items are needed to get airborne so it's easy to enjoy the sporty flight performance of this conveniently priced low wing airplane.

Features
Designed for the calm control ideal for newcomers to low wing airplanes.
Designed to be compatible with both EP and GP power sources.
No gluing required for completion.
Covered in printed film for a vivid color scheme.
Aluminum pipe pin joins the main wing halves. Can be separated for transport.
Features
Vertical fin, servo bed, ailerons and rudder are all pre-installed.
Can be flown in training with a 4-cell battery in sports mode.
Lightweight balsa fuselage structure provides energetic flight performance.
Features rudder connected steering nose wheel.
Equipped with pre-installed flexible pipe for rudder and elevator linkage rods.
Features
Includes pre-assembled fuel tank.
Includes spinner, linkage parts set and lightweight sponge tires.
Includes stylishly painted cowl for EP version. Creates different impression to the GP version.
painted pilot doll is assembled.
Technical Data
Length: 1,400mm
Width: 1,600mm
Weight: EP/2,650g approx. GP/2,550g approx.
Motor: 600-1000W Backplate mounted Outrunner Brushless (sold separately)
Engine: 2-cycle 40-46 class (sold separately)
Battery: 14.8V-4,000-5,000mAh Li-Po
Wing Area : 44dm2
Wing Load : 56.8g/dm2-62.0g/dm2 approx.
Wing Type: Original semi-symmetrical
Requirement
R/C system/ 4-channel, 4-servo + ESC (EP), 5-servo (GP) for airplanes
Motor/ 600-1000W Backplate mounted brushless outrunner (EP)
Engine/ 2 cycle 40-46 class (GP)
Propeller/ D11 x P7-D12 x P8
Extension Y-cord for aileron x 1, 200mm extension cord x 2
14.8V-4,000-5,000mAh Li-Po battery (EP) (max dimensions: L150xW48xH58mm)(recommended: No.ORI60072 TEAM ORION AVIONICS LiPo 4000 14.8V35C, No.ORI60079 TEAM ORION AVIONICS LiPo 5000 14.8V35C)
Charger compatible with LiPo balance charging (EP)
Fuel, Starting tools (GP)
Batteries for receiver (EP/GP) **Required for EP if LiPo battery can not be used with BEC power of ESC.
EP recommended power unit set : No.66801 TEAM ORION AVIONICS Flight Pack 50 for airplanes (motor, ESC, propeller set)
Send Inquiry