Cessna 182 Skylane Gold Edition .60 Size ARF | T0PA0906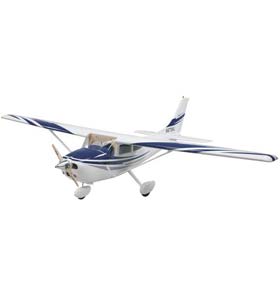 Features
Factory-built wood sections and a factory-applied, Cessna-style trim scheme reduce assembly time to just 18-25 hours.
The full cockpit interior includes seats and sides, plus a redesigned 3D instrument panel. Details include raised dials and control yokes, as well as color graphics.
Features
Painted fiberglass details include traditional time savers like the cowl and wheel pants, as well as added extras that include updated, one-piece wing and landing gear struts, Horner wing tips and molded-in corrugations for control surfaces.
The accessory/hardware package includes staples like the steerable nosewheel and extras that include a beautifully polished aluminum spinner.
Features
The lighting system includes a Mars beacon as well as landing and nav lights. It's a costly add-on with some kits, but an installed extra on the Skylane 182 ARF.
Technical Data
Wingspan: 81 in (2,060 mm)
Wing Area: 898 in² (57.9 dm²)
Weight: 11.5-12.5 lb (5.22-5.67 kg)
Wing Loading: 30-32 oz/ft² (92-98 g/dm²)
Length: 64 in (1,630 mm)
Requirement
.5+ channel radio w/7 servos and a 2-stroke .60-.91 or 4-stroke .91-1.20 engine or an outrunner brushless motor
Send Inquiry