DA-100L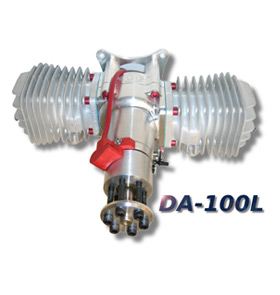 Product Overview
The well proven DA-100 now even lighter and stronger ! 
We couldn't resist adding some new features like a new reed cage, reed valve and a lighter crankcase to our 100cc engine. Here is the result: The DA-100L is now lighter, has more power and improved midrange.
Features
Three crank bearings, long spacing between front bearings.
Walbro Carburator
Low vibration.
Aerobatic power curve.
 Four petal reed valve, bottom induction.
Exclusive Desert Aircraft designed cylinders, pistons, and crankshaft.
Most torque in its class.
DA engines are designed using the latest tools and techniques, including 3D CAD and Stereo Lithography.
Desert Aircraft, auto advance, electronic ignition.
CNC milled, 7075 aluminum alloy crankcase.
Long rod to stroke ratio.
Technical Data
Displacement: 6.10 ci (100 cc)
Output: 9.8 hp
Weight: 5.57 lbs (2.53 kilos)
Bore: 1.6771 in (42.6 mm)
Stroke: 1.3779 in (35 mm)
Length: 6.5 in (162.5 mm)
RPM Range: 1,000 to 6,700
RPM Max: 8,500
Fuel Consumption: 2.5 oz/min @ 6,000 RPM
Recommended Props
 2-Blades
28x10
27x10
26x12
 3-Blades 
26x12n
26x12
25x12N
24x12
Send Inquiry