DA-50-R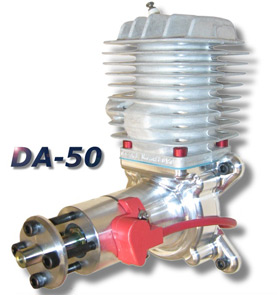 Product Overview
Still the original, made by Desert Aircraft ! 
First introduced in March 2003, the DA-50R sets the standard in 50cc powerplants. It's perfect for any 25-30% aerobatic aircraft. Available with 3 different length standoffs: 1.25", 2.5", 3".
Features
Desert Aircraft, auto advance, electronic ignition.
CNC milled, 7075 aluminum alloy crankcase.
Long rod to stroke ratio.
Walbro Carburator
Low vibration.
Aerobatic power curve.
Exclusive Desert Aircraft designed cylinders, pistons, and crankshaft.
Most torque in its class.
DA engines are designed using the latest tools and techniques,
including 3D CAD and Stereo Lithography.
Technical Data
Displacement: 3.05 ci (50 cc)
Output: 5.0 hp
Weight: 2.94 lbs (1.33 kilos)
Weight w/Standoffs: 3.13 lbs (1.42 kilos)
Bore: 1.6771 in (42.6 mm)
Stroke: 1.3779 in (35 mm)
Length: 6.7 in (170 mm)
Recommended Props
 2-Blades
24x8
23x10
23x8
22x12
22x10
22x8
 3-Blades 
22x10n
20x12
20x10
Send Inquiry