Diamond 2500 Glider RTF | ART22091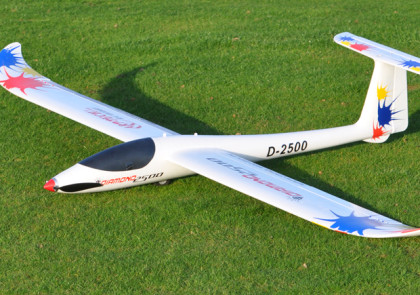 Features
Being with laminar flow airfoil and 2.5m wingspan.
Made of EPO material and has good capacity against impulsive 
Configured with the powerful brushless motor and can climb vertically at high speed. Bring surprising flight joy by its stable flight and the flexible operation.
Easy to assemble and transport.
Configured with 2.4G radio,no frequency interference.
Suitable not only for intermediate flyers, but also for advanced flyers.
Specifications
Wing span: 2500mm/98.4in
Length: 1500mm/59in
Wing Area: 55 dm2
Wing loading: 35g/dm2
Weight: 1900g/67 oz
Thrust rate: 1.26
Time for staying in the sky: >40mins
Motor: Out runner brushless motor A3720
Battery: Li-Po battery 14.8V,2500mAh
ESC: 60A
Send Inquiry