E10 FALKEN TIRE 2013 RTR (Drift) Ford Mustang | HPI111277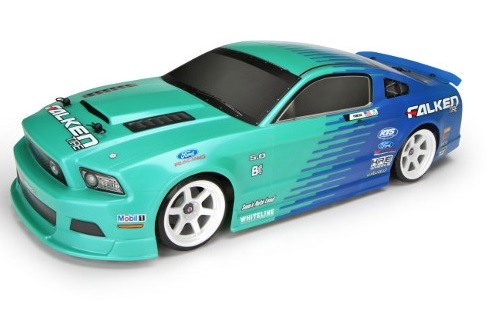 Product Overview
HPI is proud to announce an exact 1/10th scale replica of Justin Pawlak's 2013 Falken Tire Ford Mustang! Justin is one of the stars of Formula Drift and this replica of his full-size car is based around the HPI E10 chassis - a fun entry-level car that anyone can drive to get straight into drifting action!
The HPI E10 with 2013 Falken Tire Ford Mustang body is one of the easiest-to-drive RC touring cars you'll ever find! The Ready-To-Run E10 from HPI Racing is an entry level 1/10th scale electric car designed for fun driving with realistic looks and performance, all at a low price. The E10 was designed so anyone can take the wheel and take it for a spin! It comes with a fully painted body and a preassembled chassis, so it's a simple matter of "charge and go" for hours of fun!
Features
Officially licensed Justin Pawlak 2013 Falken Tire Ford Mustang muscle car body
Hard drift tires for easy drifting on any paved surface
SC-15WP Waterproof Electronic Speed Control with Reverse
2.4 GHz radio system for crystal-free, comfortable control
Features
7.2v NiMH Rechargeable HPI Plazma battery
HPI Plazma AA batteries for transmitter
AC Wall Charger
Adjustable body mounts
Quick change battery holder
Features
Shaft drive 4WD system
Shock absorbing foam bumper
High torque Saturn 27T 540 motor
Precise bellcrank steering
Specifications:
Length: 375mm (14.8")
Width: Adjustable 186, 192, 198mm (7.32", 7.56", 7.80")
Wheelbase: 10" (255mm)
Specifications
Weight: 1280g (2.8lbs.) w/o body
Drive System: Shaft Drive 4WD
Drive Ratio: 7.48:1
Requires:
Nothing! Everything you need is included!
Send Inquiry