EP MT-4WD R/S FO-XX VE | 30887B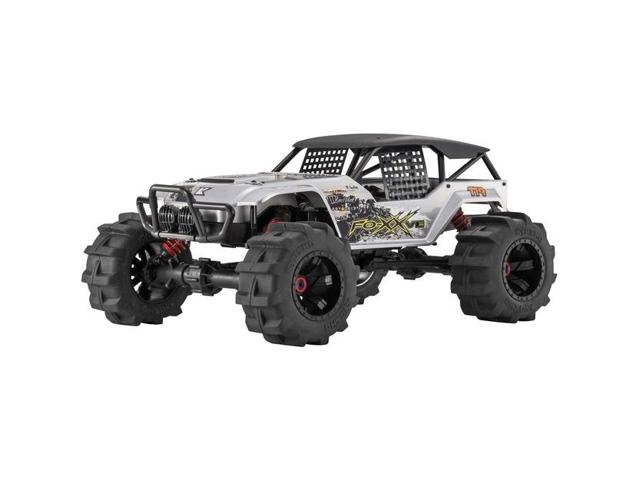 Product Overview
Drivers and spectators alike will be blown away by the explosive acceleration of the FO-XX VE as soon as the throttle trigger is pulled on this intimidating monster truck. Acceleration is so powerful, good control of the front end will be needed to prevent back flips from a standing start. Needless to say, wheelies are a breeze! You will also believe a truck can fly if you have a jump ramp nearby. The energy source for this extraordinary power and performance comes from the Team Orion brushless motor system and delivers powerful output like you have never experienced before. And with a heavy-duty chassis and drive train to back it up, the FO-XX VE demonstrates superior durability time and again. Also, the Readyset features a pre-assembled chassis so just arrange your own batteries for the chassis and transmitter and a battery charger and you're ready to crunch in true monster truck power and style. With the high performance 2.4GHz "Syncro KT-200" R/C system included, free control and setting adjustments are provided without the worry of frequency bands. 
Features
Solid casings on the front and rear rigid axles with oil filled differentials provide efficient traction and tune ability.
New scale looking body with integrated roll cage and molded rooftop! Front inner fenders protects chassis from incoming roost!
New rugged bumper with integrated headlight buckets that are LED compatible!
High efficiency drive train is fully ball raced with 20 ball bearings.
New low profile radio box protects R/C components from dust and dirt.
Features
New large paddle type tires and 6 spoke wheels!
Flip top style body mounting for ease of maintenance.
Industry standard 17mm wheel hexes allows use of virtually all available monster truck sized wheels and tires!
Parts are compatible with already available Mad Force series parts and option parts!
Specifications
Length: 545mm
Width: 383mm
Height:  248mm
Wheelbase: 360mm
Tread (F/R): 310mm
Tire(F/R): Φ115/70.5mm
Motor Team Orion Neon: 8 (2100Kv) Brushless 
Battery (not included): 7.4V Lipo 1-2 (7.4V-14.8V - recommended: Team Orion 2S-1P Lipo series)
Ready Set Contents
Factory assembled chassis
Pre-colored body
Pre-installed 2.4Ghz KT-200 R/C system
Pre-installed Team Orion Vortex R8 ESC & NEON 8BL brushless motor
Ready Set Contents
17mm Wheel wrench
1.5, 2, 2.5, 3mm Hexagonal wrench
Note) 4 x AA sized alkaline batteries for transmitter, batteries for chassis and battery charger are sold separately.
Required for Operations
AA sized alkaline batteries x 4 for transmitter
Batteries for chassis (recommended: Team Orion 2S-1P Li-Po x 2)
Battery charger
Send Inquiry