FO-XX WITH KT-231P 1/8 GP 4WD | 33151B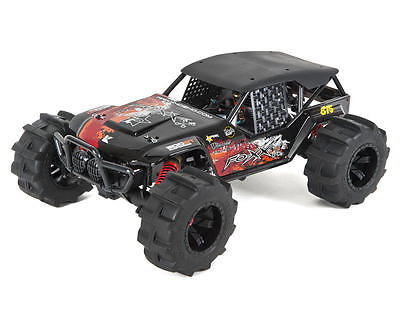 Product Overview
Go ballistic with rigid axle 4WD + 3-speed A/T + 25-class engine power!
From its crawler-like agility to explosive power for wheelie starts, the FO-XX GP takes monster trucking to a new level. Formula off-road form combines with paddle tread pattern tires to produce breathtaking running performance. The hybrid tube frame and monocoque chassis structure is adorned with a pre-colored body and dummy front fog lights to create an intrepid style. A hinged front opening allows for fast and easy maintenance while the inner cover inside the fender not only fills the gap between the tires and chassis for improved scale appearance, but also keeps dirt out from the chassis. Proud owners of the FO-XX GP will be impressed with the fine attention to detail throughout, not to mentioned the proven front-rear 3-speed transmission + rigid axle + chain & shaft driven 4WD from the Kyosho Mad Force. 

Features
Fully factory assembled Readyset.
Formula off-road body style exudes realism.
3-speed A/T makes full use of the power band and is included as standard.
Shaft and chain 4WD mechanism transfers traction efficiently.
Includes formidable black anodized side plate chassis.
Rigid front and rear axles feature robust casing.
150cc fuel tank provides long run times.
Unique design of steering knuckle delivers increased steering angle.
Pre-painted and pre-cut body with decals applied.
Solid steel bevel gears equipped on rear diff gear.
Features
Full ball bearing specifications use 22 bearings through the drive train.
Low height radio box delivers low center of gravity and effectively protects R/C system from dirt.
Paddle tread pattern tires provide sure-footed grip.
17mm wheel hubs and nuts are compatible with the Inferno series.
Equipped with large capacity big bore shocks as standard.
Front - rear interchangeable suspension arms provide efficient maintenance and parts utilization.
Long wheelbase and low down suspension produces dynamic speed as well as stability in straight line running and cornering.
Specifications
Length: 545mm
Width: 383mm
Height: 248mm
Ground Clearance: 54.5mm
Wheelbase: 360mm
Tread (F/R): 312mm / 312mm
Tire(F/R): F155×70.5mm / F155×70.5mm
Gear Ratio: 25.7/19.8/15.6:1
Weight: 4,200g approx.
Engine: KE25 with recoil starter
Ready Set Contents
Factory assembled chassis complete with control linkages
Pre-colored body complete with decals applied
Pre-installed 2.4Ghz KT-231P R/C system
Fuel bottle
Plug heater
Ready Set Contents
Cross wrench (large)
17mm Wheel wrench
1.5, 2, 2.5, 3mm Hexagonal wrench
Note) Fuel, 8 x AA sized alkaline batteries for transmitter & receiver, 2 x D-size batteries for plug heater are sold separately.
Required for Operation
8 x AA sized alkaline batteries for transmitter & receiver
Fuel
2 x D-size alkaline batteries for plug heater
Send Inquiry