GOBLIN 500 RED/CARBON | S9010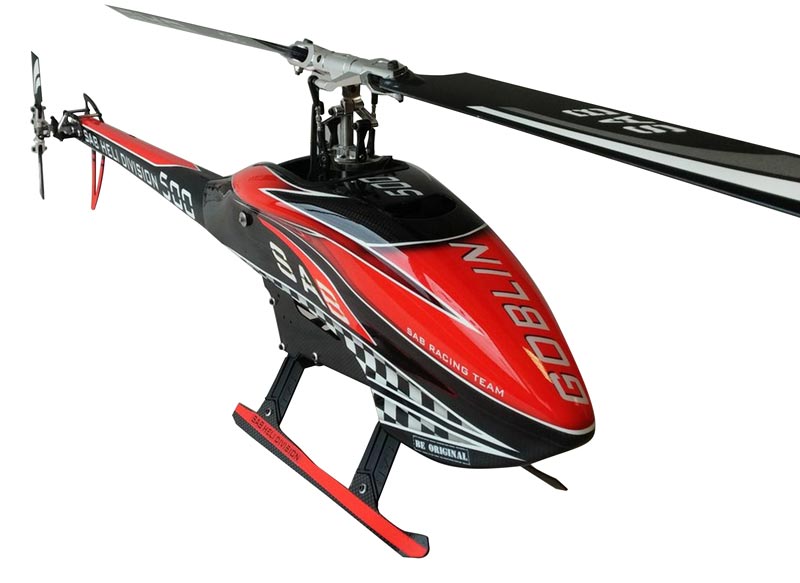 Product Overview
SAB Goblin 500 Red/Carbon.
Features
Identical concept as Goblin 700
Simple and effective design
Carbon fiber boom for maximum rigidity
HPS (High Precision Head System)
10mm high strength steel main shaft
8mm high strength steel spindle shaft
Large tail pulleys for increased tail authority
Dampened tail system for increased vibration tolerance
Unique, extremely rigid transmission design Stiffness of the model defined by a single component
Heat tolerant primary drive belt
Carbon fiber tail push rod hidden inside the boom for an aesthetically pleasing, unique design
Nylon bolt break-away system to preserve the boom during a crash
Landing gear mounting brackets don't require bolts to be installed. The brackets are a break point during a crash preserving frames and other important parts
Quick release battery tray system
Plenty of room for electronic components
Mini size cyclic servos
Direct and geometrically correct servo placement
Standard size tail servo
Full carbon fiber boom
Quick release battery tray system
Sacrificial breaking point for landing gear and boom
Unique "inside the boom" tail push rod design
Specifications
Main rotor diameter: 1136mm (with 500 mm blades)
HPS Head (FBL Only)
Main blade length: 470 to 500mm
Tail rotor diameter: 226 mm
Tail blade length: 80 mm
Main shaft diameter: 10 mm
Tail shaft diameter: 5 mm
Spindle shaft diameter: 8 mm
Gear Ratios 6.9-11 : 1
Weight including electronics: 1900 g (excluding flight battery).
18T motor pulley included (other pulley sizes available)
All pulleys are made for 6 mm motor shaft (5 mm motor shaft adapter included in kit)
Electronic Specifications
Cyclic Servos: Mini size (36mm)
Normal and 3D Flight: Hitec 5245 MG, Align DS510M or DS515M, Savox SH1250, Graupner DES 678 MG, MKS DS-9660A, Futaba 9650
HARD 3D: Futaba BLS153, Graupner HBS660 HV, JR DS3717 HV, HITEC 7245 MG HV, JR DS3711 HV
Tail Servo: Standard size (40mm)
Typical Speed Controller: 80/100A
Normal and 3D Flight: Kontronik Koby 90, YGE 100 LV
HARD 3D: Kontronik Jive 100 LV, YGE 120 LV, CC Talon 90
Motors: (Max Diameter: 52 mm, Max Height: 52 mm)
Normal and 3D Flight: Scorpion HK-4015-1070, Quantum 4115-1200
HARD 3D: PYRO 600-1200, Scorpion, HKIII-4020-1100/1350, Quantum 4120-1200
Flight Battery: (Max Dimensions: 52x53x180mm) ; 6S 2800/4500 mAh.
Send Inquiry