LIPO MULTI FUNCTION CHARGER/DISCHARGE 8A/80W-TOUCHSCREEN | AK608AC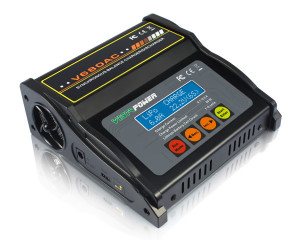 Product Overview
Built-in AC adapter, AC/DC dual input, high efficiency, it is smart and simple to operate. With output port and cooling fan helps to cool down efficiently. With AC and DC input port, also temp port, you could check the temperature of battery with.
Features
Create a safe charging condition and maximum reduce the danger caused by negligence or setting error of user.
Synchronous buck & boost converter technology, it makes conversion efficiency up to 90%.
Accept all types of R/C batteries: LiPo/LiLo/LiFe/NiMH/NiCd/Pb.
Easy to operate
Accept individual battery charging/discharging
Various of charging mode to meet different demand;
It can store and load maximum five data of different batteries.
Perform 1-5cycles of charge>discharge or discharge>charge continually for NiMH/NiCd refreshing.
Specifications
AC Input voltage: 100-240V
DC Input Voltage: 11-18V
Charge power: max.80W
Discharger power: max.10W
Charge current range: 0.1-6.0A
Discharge current range: 0.1-2.0A
Balance tolerence: ±0.01V
Nicd/NiMH battery cell count: 1 - 15cells
LiPo/LiLo/LiFe battery cell count: 1 - 6series
Pb battery voltage: 2 V - 20V
Weight: 640g
Dimensions: 145*145*56mm
Send Inquiry