MAD BUG VEI T3 (SILVER) 1/10 EP 4WD R/S WITH KT-231P | 34354T3B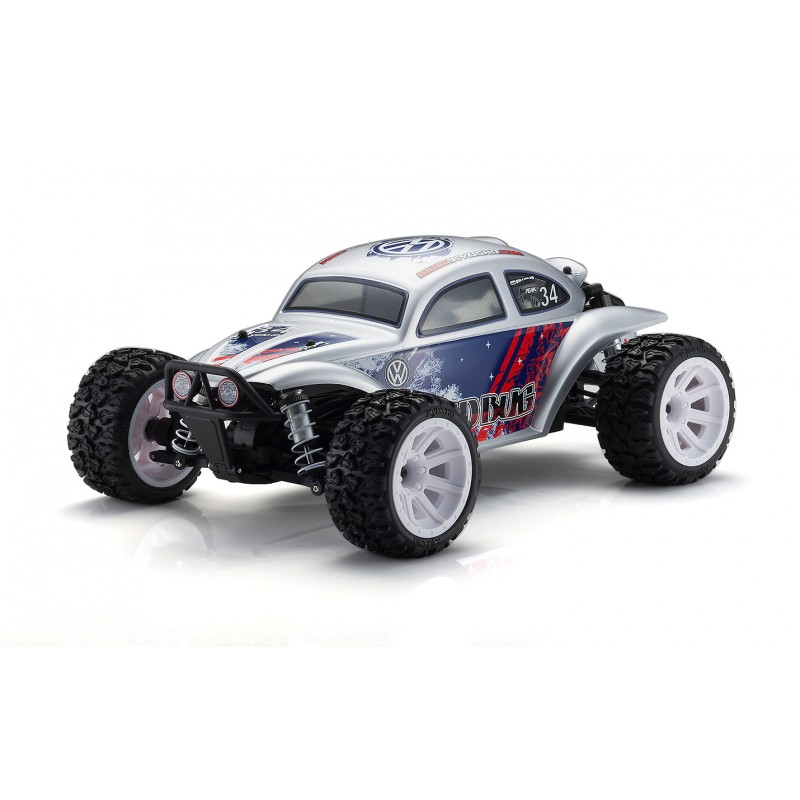 Product Overview
The much-anticipated Baja Beetle flies off-road! Advanced full-time 4WD chassis design puts the power to the ground!
This perennial off-road legend combines the famous beetle body with big off-road tires for a desert dueling form that cries out for action. With the scale realism only an officially licensed VW beetle body can achieve, the retro-futuristic style create a sense of real buggy racing. The high strength and rigidity of the bathtub shaped chassis features Kyosho's proven full-time 4WD with deep stroke double-wishbone 4-wheel independent suspension. Metal geared differential and sealed transmission with one-piece pivot pins and lower suspension on each side produce exceptional durability and impact resistance. Each aspect is designed for optimal racing performance including the spur gear, which is fitted with a slipper clutch to protect the drive-train against sudden load changes. 
Features
Factory assembled Readyset only requires connection of batteries for transmitter and chassis.
Baja Bug brings model desert racing to life.
Reliability and performance of sealed differentials and transmission provide confidence for an all out off-road attack.
Motor mount with eccentric cam allows backlash to be adjusted using just 2 screws.
Low C of G shaft drive 4WD delivers fingertip control response.
Slipper clutch provides protection for the full-time 4WD power train.
Specifications
Length: 420mm
Width: 285mm
Height: 198mm
Wheelbase: 272mm
Tread (F/R): 213mm / 206mm
Tire(F/R): F101mm×50mm / F101mm×50mm
Gear Ratio: 9.23:1
Weight: 2,100g (approx.)
Motor/ESC: Team Orion dDrive KV2700
R/C System: Syncro KT-231P
Ready Set Contents
Factory assembled chassis with pre-installed R/C unit
Factory finished body is complete with coloring and decals
Syncro KT-231P transmitter
7.2V-1800 NI-MH battery
AC charger
Hex wrench (1.5mm)
Cross wrench
Required for Operation
AA sized alkaline batteries x 4 for transmitter
Send Inquiry