MAN TGX 26.540 6×4 XLX | 56325-600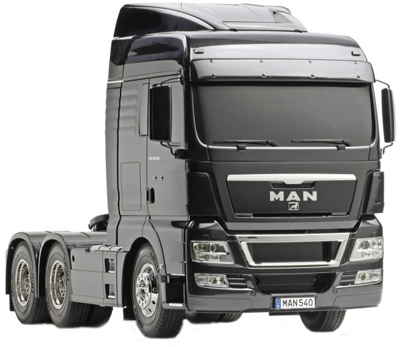 Product Overview
The latest addition to Tamiya's 1/14 scale R/C Tractor Truck series is the MAN TGX 26.540 6x4 XLX. This impressive truck, which made its debut at the 2007 European Transport Road Show in Amsterdam, was the winner of the 2008 Truck of the Year award. It features two rear axles which assist in the carrying of heavy loads over long distances. It is powered by an in-line 6 cylinder 12.4 liter turbocharged diesel engine which meets the stringent Euro 5 emissions standards to make it more environmentally friendly.
Features
Ladder frame chassis with aluminum channels and resin cross members.
Shaft-driven from front-mounted motor to rear differential-equipped axles.
White molded plastic cabin can tilt forward separately from fenders. Features a detailed interior, a separate grille, exhaust, mirrors, clear plastic windows and other accessories for added realism.
RS540 motor.
Diecast metal front axle and reinforced resin rear axle suspension float-mounted on coil-spring shocks and metal-leaf springs.
Three-speed, servo-controlled constant mesh transmission.
Ten treaded rubber tires.
Chrome-plated plastic wheels.
Compatibility with Tamiya tractor truck option parts allows further customization.
Specifications
Scale : 1/14
Construction type : assembly kit
Terrain use : on-road
Drive-train : 2-axle semi
Drive type : 3-speed
Drive line : solid axle
Differential type : gear
Suspension : leaf spring
Steering mechanism : bell-crank
Shock damper : friction damper
Shock damper material : aluminum
Tire type : rubber
Tire tread : radial
Body material : ABS Plastic
Chassis material : aluminum
Electronic Speed Control (ESC) : not included
ESC model : n/a
LED Light buckets : yes
Specifications
LED lights : no
Motor : 540-brushed type
Bearings : metal and plastic bushings
Adjustable camber : fixed
Adjustable toe angles : fixed
Adjustable ground clearance : fixed
Adjustable gear ratio : fixed
Adjustable wheelbase : fixed
Adjustable track width : fixed
Adjustable shock angle : fixed
Length: 526mm Width: 193mm Height: 301mm
Wheelbase: 237+103mm
Tread F/R: 156/138mm
Tire Width: F/R both 22mm
Diameter: F/R both 83mm
Gear Ratio: 1st gear 32.49:1, 2nd gear 17.76:1, 3rd gear 10.66:1
Required
7.2 battery & charger
4-channel radio gear
Electronic speed control
TS plastic model paint
Send Inquiry