MICRO RS4 RTR with Nissan S13/Discount Tire Body | HPI112856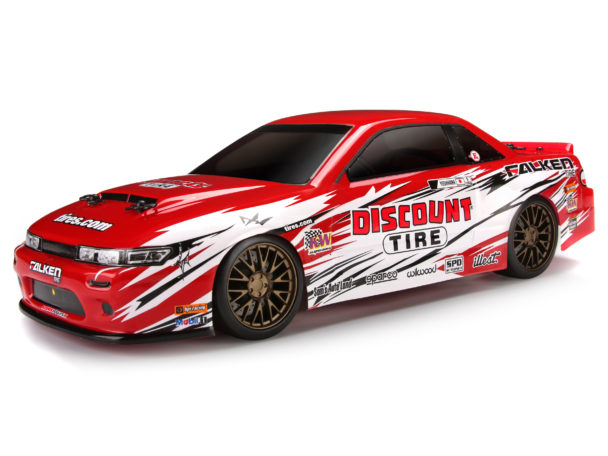 Product Overview
Take control of Dai Yoshihara's Discount Tire Nissan S13 winning drift car when you take the wheel of the Micro RS4 Drift! This is a scaled-down, 1/18th version of Dai's fantastically detailed Nissan S13, which took him to victory in Formula Drift! Dai drives the real thing, but if you want an RC replica that can fit in the palm of your hand, this is the car you're looking for!
The Micro RS4 Discount Tire Nissan S13 is perfect for fun drift action inside and outside, with a high-powered motor driving all four wheels and coil-over shocks providing smooth power and excellent control. This Ready To Run Micro RS4 kit features a highly detailed and scale replica Discount Tire Nissan S13 body for an extra-cool scale look wherever you drive!
The HPI Micro RS4 is powered by an HPI 180-size motor, electronic speed control, full time 4WD belt drive and waterproof steering servo. Because it comes with the battery pack and charger, it's ready to drift straight out of the box!
Features
Pre-Built, Ready to Run 1/18th scale racing car
Officially licensed replica of Dai Yoshioka's Discount Tire Nissan S13 championship-winning drift racer
Drives just like a larger RC car!
4WD for maximum control and speed
Belt drivetrain for efficient power transfer to front wheels
Double-wishbone independent front suspension
Features
Coil-over inboard cantilever front shocks
Front universal dogbones 
Front and rear differentials for maximum drivetrain efficiency
Fully equipped with ball bearings for maximum efficiency
EN-2 electronic speed control for total control 
2.4GHz radio system for long range reception, no frequency crystals needed
Features
180-size motor for fast speeds and quick acceleration
6v 1200mAh battery for long driving times and plenty of power
AC wall charger included for extra convenience 
4 AA batteries included for transmitter
Specifications:
Length: 252mm 
Width: 110mm
Height: ~75mm
Wheelbase: 140mm
Tire Diameter: 36mm
Drivetrain: Full-Time Belt 4WD
Requires:
Absolutely nothing! All batteries and charger included to get driving right away
Send Inquiry