MINI Z MR-03W-MM LAMBORGHINI MURCIELAGO LP-670-4 SV PEARYELLOW | 32811PY-B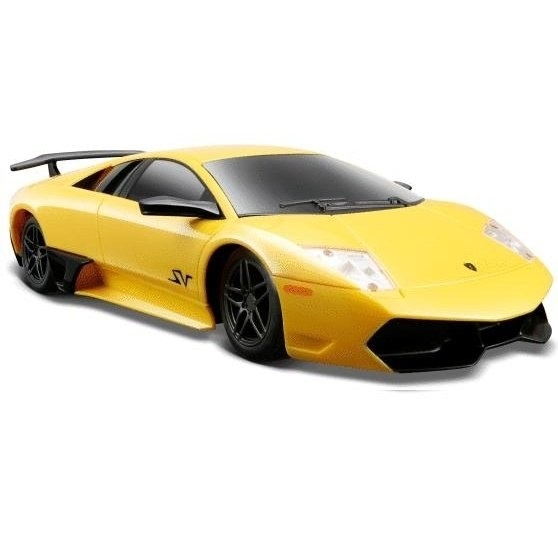 Product Overview
The difference of this machine will be noticed at the very first corner. Suspension stroke and camber change work in concert in the innovative front suspension to accurately trace the road surface while the adoption of a coreless motor in the newly designed digital steering servo has the model driving like its on rails with a light touch steering feel that brings the car back smoothly into line. In addition to the same low C of G from the MR-02, the narrow body styles of the MR-015 can be fitted due to the lightweight concentrated design. In fact, the MR-03 is compatible with all body styles from the MINI-Z racer series, which is perhaps the most comprehensive tribute to automotive excellence in R/C. Combine the MR-03 with your favorite car body and you have the finest radio controlled model available in style and performance. *Optional parts maybe required when fitting some bodies to some chassis types.
Features
VCS (Variable Camber Suspension) - Upper arms connected to king pins and knuckles with ball links allow the camber angle to change with suspension stroke, just like on a real car. Tire contact with the surface remains constant, even during chassis roll and suspension stroke from surface tracing. The newly developed digital steering servo uses a coreless motor that delivers quick steering response and sharp maneuverability that feels like its riding on rails. Also, the upper arm and one-piece cantilever provide ideal cushioned movement for the coil spring. In addition, the stainless steel king pin and wheel shaft delivers smooth movement for excellent running stability. Precision geometry settings eliminate toe in and toe out change during suspension stroke and produce a neutral steering feel. The innovative VCS (Variable Camber Suspension) represents a significant evolutionary step in the history of the MINI-Z.
KT-18 2.4GHz Transmitter - Newly developed 2.4GHz R/C system requires no frequency crystals and automatically scans open frequencies to use, allowing up to 40 cars to be run together. Simply switch the power on for stable control without interference. The fastest signal processing in the history of R/C results in almost instantaneous reaction to the driver's will for a more direct control feel. By pairing the transmitter to the chassis, a single transmitter can be registered and used with multiple 2.4GHz MINI-Z models. To match the latest R/C technology, a new generation LM chassis has been developed for even greater performance.
*Transmitter Sold Separately Item# 82001
Features
Digital Steering Servo - The powerful position retention and movement of the digital servo is enhanced with the adoption of a coreless motor that provides instantaneous pick up and stopping. In addition, the newly developed steering gear unit has 3 times the gear ratio of previous versions for greater power in holding its position so it holds its line firmly in the face of kickbacks from the road surface and also delivers even more precise movement and response.
Compatible With All ASC - The main chassis is compatible with all MINI-Z ASC (Auto Scale) ranging from MR-015, MR-02 and AWD. Pick and choose from any body in the Mini Z Auto Scale body series, there are 100's of bodies to choose from. *Special motor case and differential gear assembly maybe required to fit some body styles.
Coreless Motor + New Gear Reduction Ratio - Digital steering servo features a coreless motor and a gear unit that has 3 times the gear reduction ratio of previous units for powerful movement and position retention.
Endless Adjustments - Coil springs in the front suspension can be easily replaced by removing the spring stopper with just two screws. Motor mount can be easily removed and replaced to suit what ever chassis configuration you want to run from a MM, RM, HM or LM type of mount.
Features
Battery Layout - Same battery layout as the MR-02 chassis achieves a low center of gravity with a main chassis width equal to the narrow MR-015.
RA-22 2.4GHz Technology - Equipped with the new next generation RA-22 2.4GHz R/C unit specially designed for the MR-03. Requires no frequency bands. Simply switch power ON and enjoy safe and stable control. SF 2.4GHz system automatically scans for open frequencies and promises safer and more secure control.
Adjustable Front Tread - Can be set to either narrow or wide tread by replacing the front lower and upper plates and steering tie rod. Of course the wheelbase can still be adjusted to suit certain car types.
Expansion Connectors - The expansion connector allows optional gyro, light unit and I.C.S. interface to be connected and used. # Power Train - Rear power train utilizes the previous models, the MR-03 rear drive train is fully compatible with all the optional parts currently available for the MR-02.
Powerful Performance - FET speed control amp with more than double the capacity of previous version produces extra powerful running performance
Specifications
Length:185mm (7.2in)
Width: 78.0mm (3.0in)
Height: 44.mm (1.7in)
Wheelbase:98mm (3.8in)
Gear Ratio: 16.34:1
Weight:130g
Required
4 x AAA-size alkaline or NiMH batteries for chassis
4 x AAA-size alkaline batteries for transmitter (KT-18)
Send Inquiry