NISSAN GTR KIT | 58455-600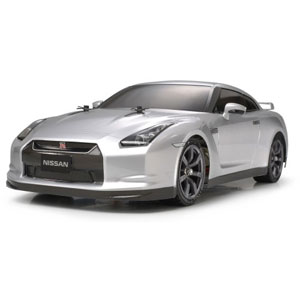 Product Overview
The GT-R first made its debut in December 2007 as Nissan's "Multiperformance Supercar." Featuring a 480hp 3.8 liter twin-turbo V6 engine, dual clutch transmission, and independent transaxle 4WD system, the car is able to hit 300km/h top speeds and lap the vaunted Nurburgring in about 7min 30sec. This awesome performance truly makes the GT-R a supercar that can be enjoyed by anyone, anytime, and anywhere.
Features
Front grille features nylon mesh for a realistic appearance
Trademark rounded tail lights are created from clear red, clear, and metal plated parts.
Engine hood feature hinge to enable opening and closing, and a hood strut is included.
Realistic interior features such details as separately-molded paddle shifter.
Front wheels are steerable and all tires are made from synthetic rubber for enhanced realism.
Under body features accurate undercover and diffuser.
Specifications
1/10 scale high-quality assembly kit. 
Length: 197mm, Width: 82mm 
Aggressive form of the GT-R accurately captured. 
Suspension and interior components are assembled in a similar way as the actual car. 
Metal plated induction box add detail to the engine bay. 
Window masking stickers included. 
Metal transfers sharply reproduce manufacturer emblems and side mirror surfaces. 
Metal plated 2-piece wheels are just like the real thing.
Required
Radio: 2-channel with one servo
Radio Batteries: 8 AA size (for transmitter)
Battery: 6-cell stick pack with standard connector
Charger: AC/DC timed or peak for 6-cell battery
Misc. Items: Building and track equipment
Send Inquiry