RAGE VEI 1/10 EP 4WD RS (WITH KT-231P) | 34353B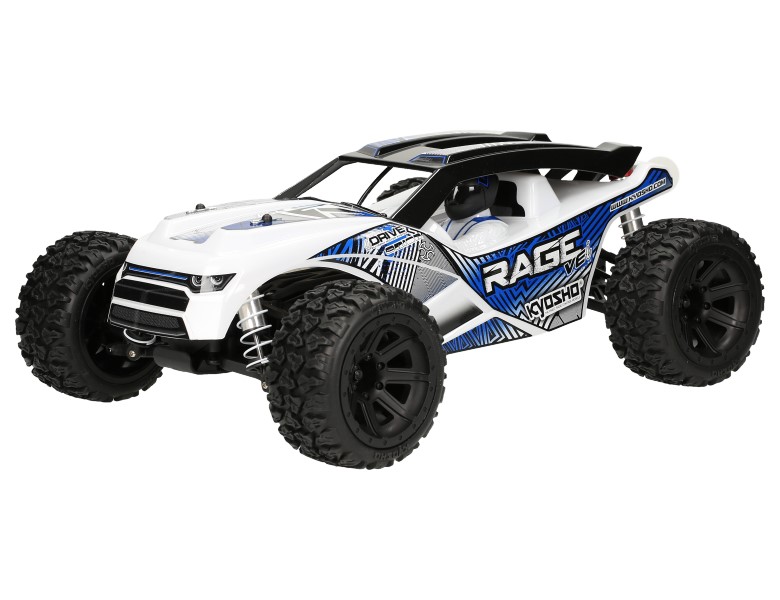 Product Overview
Newly designed electric off road car! More performance for the price makes this a must-have racing SUV truck!
The stability and exciting off-road driving performance of the RAGE VE with its large 100mm tires mounted on inch-up wheels and aluminum oil filled shocks has been turbo-charged with a totally new power unit in the new RAGE VEi! The ORION dDrive brushless power unit incorporates a one-piece ESC and motor that produces 2700KV to deliver sharp acceleration and high speed. With the core structure of the RAGE bathtub chassis, double wishbone suspension and large aluminum shocks, a slipper clutch protects the 4WD shaft drive system from the severe stress of off-road running for greater durability. Free adjustment of front/rear upper arms and steering rod allows precision setting of toe and camber angles. Experience the ultimate in off-road running performance!
Features
Fully Assembled Chassis
SYNCRO KT-231P Radio System Installed.
Completed pre-painted SUV body with decals attached.
Features adjustable front/rear upper suspension arm.
Equipped with adjustable steering linkage.
Specifications
Length: 395mm
Width: 287mm
Height: 152mm
Wheelbase: 272mm
Tread (F/R): 213mm / 206mm
Tire(F/R): F101mm × 50mm / F101mm × 50mm
Gear Ratio: 9.62:1
Weight: 1,764g (approx.)
Motor: Orion NEON ONE brushless motor. (KV-2400)
R/C System: Syncro 231P
Ready Set Contents
Factory assembled chassis with pre-installed R/C unit
Pre-painted assembled body with decals applied (with large wing)
Syncro KT-231P transmitter
Hex wrench (1.5mm)
Cross wrench
Team Orion 1800 7.2V NiMH Battery
AC wall charger
Required for Operation
4 x AA sized alkaline batteries for transmitter
Send Inquiry