SCANIA R620 6X4 HIGHLINE | 56323-600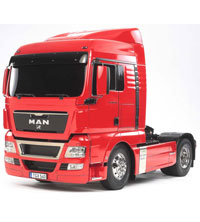 Product Overview
Scania is a world-famous manufacturer of large trucks and buses, and this is an R/C model of the 620hp V8-powered 3-axle R620 6X4 Highline, the flagship model of their 2005 International Truck of the Year-winning R-Series range. The characteristic styling of the truck's body is reproduced down to the smallest detail. The cabin tilts forward just like the actual truck and the included grille mesh and metal transfer emblems further enhance the realism look of the truck. The model features a ladder frame chassis with aluminum channels, 3-speed transmission, suspension with metal leaf springs and friction dampers, and rear axles equipped with differentials.
Features
Multi-Function Control Unit (MFC-01) (included for Japanese market only) offers light, sound, and vibration operation to accompany your R/C truck experience. Engine sounds have been digitally recorded from the actual truck, and together with air horn, gear shifting, and many other realistic sounds, lets you feel like you are driving the real thing. Headlights, brake lights, and turn signal operations are also available at your fingertips
Features
5 types of trailers including semi-trailer, tank-trailer, and pole-trailer, are currently available to choose from. Attach any one of them to the Scania R620 to create an exciting combination that is over 1 meter long. Furthermore, the Multi-Function Control Unit (MFC-01) allows realistic low-speed running with semi-trailer attached.
Technical Data
Length: 520mm
Width: 187mm
Height: 293mm
Weight (without options): Approx. 3.7kg
Wheelbase: 237+103mm
Tread: 156mm (Front), 138mm (Rear, Double Tire)
Chassis: Aluminum & Polycarbonate Resin Ladder Frame
Suspension: Front/Rear Leaf Springs
Caster Angle (Front/Rear): 0°/0°
Camber Angle: 0°(Front & Rear)
Technical Data
Toe Angle: 0°(Front & Rear)
Dampers: Aluminum Dummy Dampers (Front & Rear)
Drive Train: Rear Double Axle Drive 
Transmission: 3-gear transmission (gear shifting operated via transmitter)
Gear Ratio: (1st Gear) 32.49:1, (2nd Gear) 17.76:1, (3rd Gear) 10.66:1
Diff. Gear: 3-bevel diff
Motor: Type RS540
Tire Width: 22mm (Front & Rear)
Tire Diameter: 83mm (Front & Rear)
Included Items (Japan only): 4-channel transmitter, MFC-01, 2 servos, 7.2V running battery & charger
Requirement
7.2V NiMh Battery and Charger
Dry Alkaline AA Battery for RC System
4 Channel Transmitter and 2 servos
Send Inquiry