SLASH 4×4 TSM | T68086-3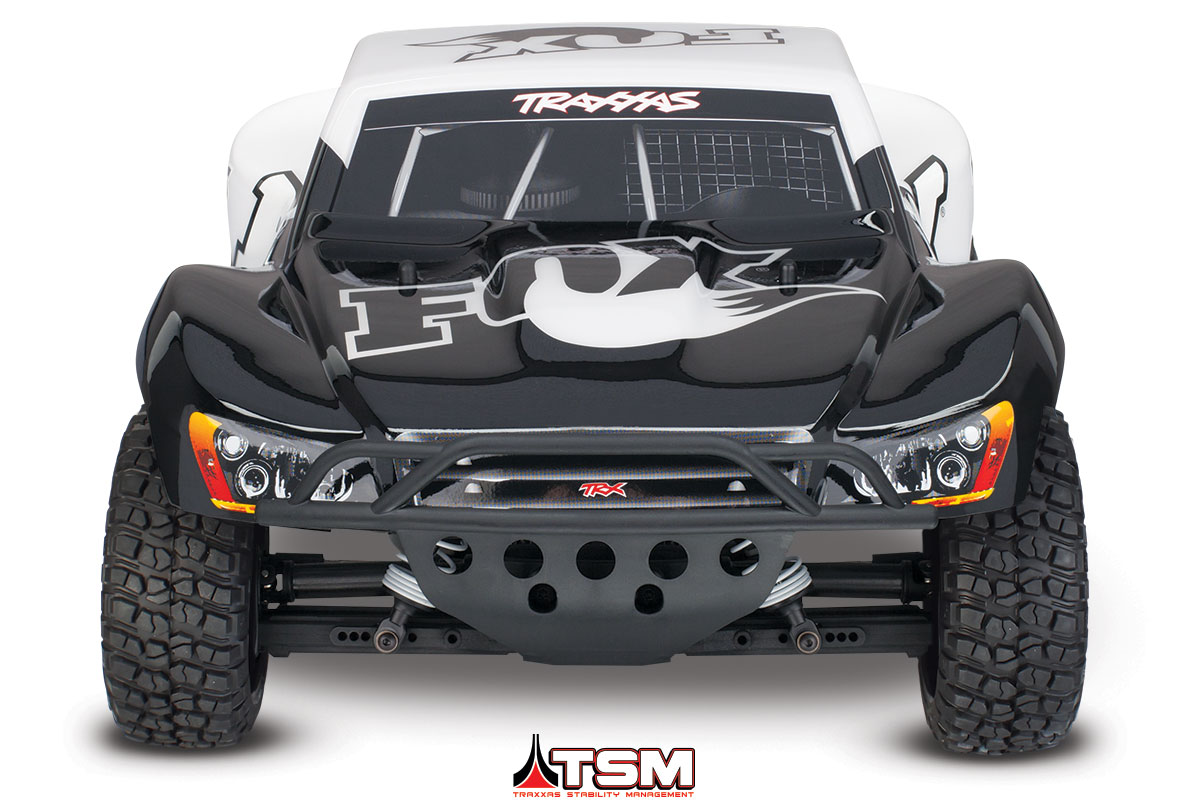 Traxxas Stability Management®
This Slash 4X4 is hard-loaded for ultimate performance with the new Traxxas Stability Management (TSM).
Traxxas Stability Management TSM® allows you to experience all the extreme power, speed, and acceleration that was engineered into the Slash 4X4 by making it much easier to control on common slippery surfaces such as loose dirt, smooth concrete, and even ice and snow. Punch it off the line and TSM goes to work sensing the vehicle's direction and making steering corrections to provide straight-ahead full-throttle acceleration without fishtailing, spinouts, and loss of control. TSM also works during cornering, first making intuitive corrections to maintain your line, and then allowing you to hammer the throttle earlier in the turn for much faster exit speeds. Braking is dramatically improved as TSM works to keep you arrow straight until you come to a complete stop. TSM acts as your on-board co-pilot in the vehicle that "feels" what the vehicle is doing and makes corrections for vehicle movements that you cannot even detect, well before the vehicle gets out of control.
Traxxas TSM gives you all the benefits modern electronic stabilization has to offer without intruding on your driving fun. Traxxas engineers developed superior tuning algorithms that run on high-speed, precision electronic components to create a system that works invisibly, in the background, without ever limiting your throttle. TSM can be fine tuned (or turned off) for different surfaces by simply adjusting the multi-function knob on the TQi transmitter, or by adjusting the slider in the Traxxas link app. The result is that you are driving faster, with more ease, and having more fun,with that fully connected feeling at the controls that you expect. In fact, you may not even realize how much TSM is helping you until you turn it off and test your driving skills without it!

Innovative Chassis
The innovation designed into the Slash 4X4 begins with an innovative chassis that's not like anything you've seen before. Extreme Brushless Power and 4WD requires a chassis that won't flex under load for arrow-straight, hard-charging acceleration. To offer the required rigidity, smoothly integrated ribs form a triangulated structure that's optimized for the loads imparted by the suspension and powertrain. Underneath, the chassis is ultra-smooth to reduce drag and prevent snags driving through brush, and Slash 4X4 maintains the high center ground clearance that is a hallmark of the original Slash. The extra clearance drastically increases the off-road versatility that allows you to tackle rougher terrain and bigger obstacles. On the track, the center of gravity (cg) is just right. The Slash 4X4 feels planted and secure at speed and at the same time delivers that authentic Short Course handling and realism that makes Slash racing such incredible fun.
Ultra Efficient Shaft-Driven 4WD

Slash 4X4 uses just three gear meshes to drive all four wheels, eliminating the need for a multi-gear transmission. The highly efficient drivetrain spins effortlessly on rubber-sealed ball bearings, and is integrated seamlessly into Slash 4X4's unique chassis for optimum performance and easy maintenance. The center driveshaft is formed from extruded aluminum. There are no dogbones to wear, no drive cups to wobble. The extrusion process allows the shaft to be hollow and lightweight with internal splines that fit directly and securely onto the input shafts of the front and rear drive assemblies. The shaft runs perfectly straight and true and offers superior durability. Traxxas engineers highlighted this important innovation with vivid blue anodizing and a laser-etched Traxxas logo.
100% Fully Assembled and Ready-To-Race®
Slash 4X4 comes fully-assembled and Ready-To-Race® with the TQi 2.4GHz radio system installed and adjusted, Velineon brushless power system, a painted and decaled body, pre-glued tires, and detailed instructions. Traxxas backs Slash 4X4 and all of our products with top-notch support that is second to none. A staff of skilled representatives is on-hand to answer your questions via phone, website, or e-mail. Unmatched parts support allows Slash 4X4 to be serviced with parts and support from thousands of hobby dealers worldwide. Your investment is also protected by the Traxxas Lifetime Electronics Warranty. Traxxas goes the extra mile to ensure that your R/C experience is easy and fun (and fast!). Follow the details link above to go in depth on all the Slash 4X4 performance benefits and also be sure to check out the videos page to see Slash 4X4 in action for yourself.
Features
NEW 

Traxxas Stability Management® (TSM)
Traxxas 4amp DC Peak Detecting Fast Charger
Traxxas 7-cell NiMH battery with iDTM
Powered by the Velineon® Brushless Power System
Slash 4X4 reaches speeds in excess of 60mph!*
Maxx® Cable 12-gauge wire
Traxxas High-Current Connector (patented) allows high-capacity battery packs to deliver maximum voltage to the Velineon Brushless Power System
Exclusive waterproof electronics extend brushless power and performance to water, mud, and snow
Velineon VXL-3s Electronic Speed Control

LiPo, NiCad, and NiMH compatible with two-stage low-voltage detection
Sport Mode – Forward / Brake / Reverse
Race Mode – Forward / Brake
Training Mode™ - 50% Forward / Brake / 50% Reverse (patented)

Velineon 3500 Brushless Motor

Consistent, high-power output, run after run
Low-maintenance, unique Traxxas design
Efficient, high-speed ball bearings
Precision-balanced rotor

TQi 2.4GHz transmitter

Compatible with optional Traxxas Link Wireless Module (#6511) for full Traxxas Link App capability Traxxas Link is designed for use with Android 4.4 and up or iOS 4.3 and later.
Automatically stores and loads settings for up to 30 Traxxas Link-enabled models—just switch on and drive, "model selection" is not required
Multi-Function knob
Adjustable steering and throttle percentage (dual rates)
Adjustable steering and throttle sensitivity (exponential)
Adjustable steering and throttle end points
High 13ms frame rate and near-zero latency for responsive control
TQi 2.4GHz 5-channel micro receiver with Traxxas Stability Management (TSM) (#6533), fail-safe security and integrated telemetry ports

Durable steel Jato®-Style turnbuckles and captured rod ends
Single-screw motor access makes gear-mesh adjustments fast and easy and the motor can be removed in just seconds
Modular simplicity, fiber-composite monocoque chassis
Speed control and receiver are securely fastened to chassis
Integrated Personal Transponder Mount
Versatile battery compartment easily adapts to multiple styles of batteries; 6 or 7-cell NiMh battery packs and various configurations of Lithium Polymer packs are no problem for Slash 4X4
Digital high-torque Traxxas #2075 waterproof steering servo
Waterproof, o-ring sealed receiver box
Sealed, silicone-filled differentials
Revo®-Spec Torque-Control™ slipper clutch system
Fully adjustable oil-filled Ultra Shocks™ with X-ring technology
White powder coated shock springs feature a responsive spring rate
Telescoping universal-joint driveshafts
Rubber-sealed ball bearings
Scale all-terrain front and rear tires offer superior on- and off-road traction
Pre-glued all-terrain tires with high-performance foam inserts
ProGraphix® painted race replica bodies
Full line of genuine Traxxas accessories available
Slash 4X4 is backed by unparalleled Traxxas support and parts availability
Send Inquiry