SPRINT 2 DRIFT RTR WITH NISSAN 350Z BODY| HPI106154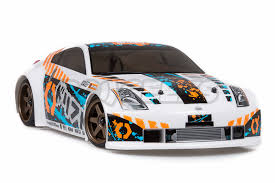 Product Overview:
The RTR Sprint 2 Drift is a fun, easy to drive and simple to maintain drifting car, designed for instant sideways action!
If you've got the burning desire to bust out some tire-shredding drift action in a wild and exciting package, look no further! The HPI Sprint 2 Drift is the car for you. The Sprint 2 Drift is the drift version of the Sprint 2 Sport and has most of the same features: composite double-deck chassis, dual belt drive, maintenance-free gear diffs, waterproof electronics and hassle-free 2.4GHz control.
Features
Officially licensed Nissan 350Z body
2.4 GHz radio system for crystal-free, comfortable control
7.2v 2000 mAh NiMH Rechargeable HPI Plazma battery
HPI Plazma AA batteries for transmitter
AC Wall Charger
Waterproof SP-15WP electronic speed control with LiPo safety cut-off
Waterproof SF-10W steering servo
Waterproof receiver/battery box
Orange anodized aluminium chassis parts
Features
Officially licensed Rays/Volk TE37 bronze wheels. 6mm offset rear wheels fill out the fenders and give the wheels the wide look seen on full-size drift cars
Officially licensed Falken Azenis RT-615 drift tyres for realistic drift appearance
Replica drifting tires for full-time drift action
Foam bumper protects the car from potentially damaging impacts
Adjustable body posts allow you to mount a variety of different bodies without trimming or replacing the posts
Adjustable turnbuckles to fine tune your suspension
Complete set of ball bearings for a smooth and efficient drivetrain
Features
Oil-filled coil-over shock absorbers with specially chosen springs for drifting
2 degree and 3 degree rear hubs for additional tuning choices
Durable injected moulded nylon main chassis
Front and rear shock towers with optimized shock absorber and camber link positions for ideal suspension geometry
Optional low profile front shock tower is included in the kit which allows the use of the full range of HPI 190mm to 210mm wide bodies
Droop screws allow you to "race tune" your suspension settings
Precise bellcrank steering
Specifications:
Length: 431mm (17")
Height: 127mm (5")
Width: 200mm (7.9")
Wheelbase: 254mm (10")
Requires:
Nothing! Everything you need to get driving is included!
Send Inquiry