E-Maxx RTR WATERPROOF with TSM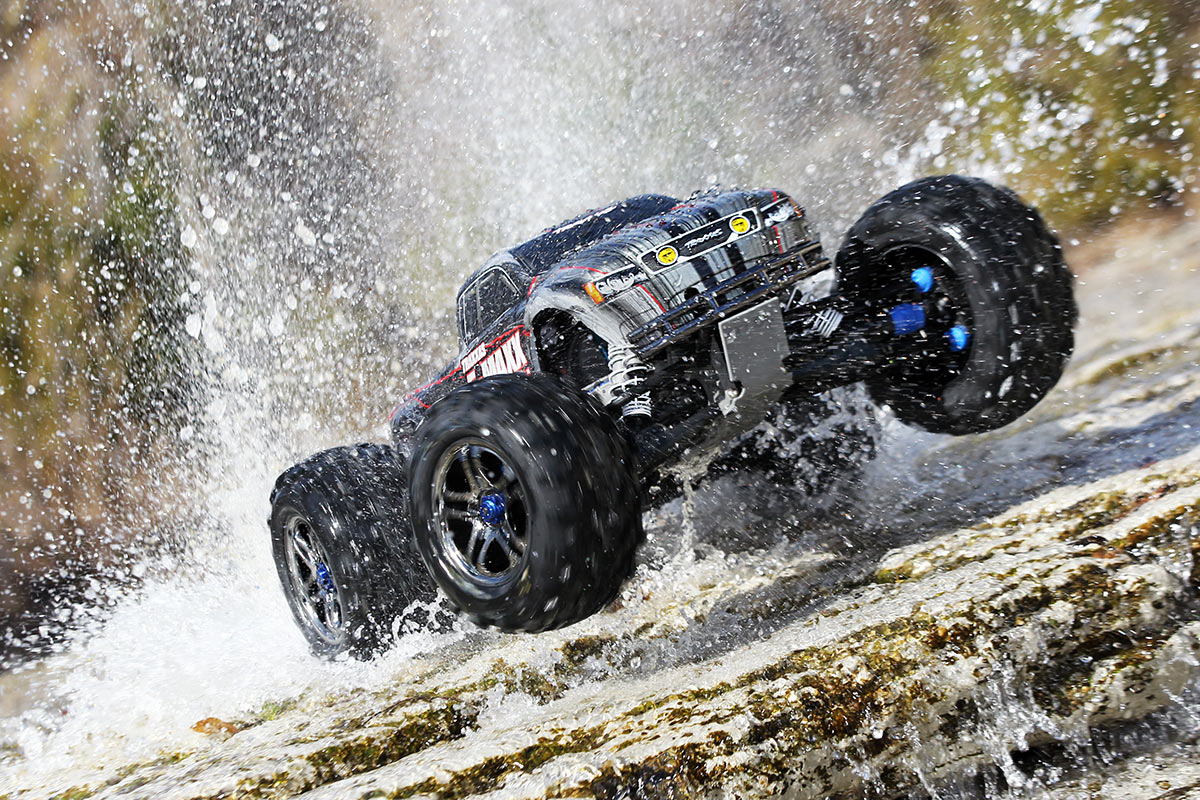 Product Overview
The Ultimate Electric 4X4 Maxx Monster!
No one loves over-the-top power more than Traxxas! Our engineers added extreme 6S LiPo power to the proven strength and reliability of the E-Maxx to create the E-Maxx Brushless Edition. The MXL-6s ESC sends over 25 volts of supercharged power to the 2200kV brushless motor for 65+mph speeds (using 3s LiPo batteries). Traxxas Stability Management® (TSM) keeps E-Maxx stable at speed, while still leaving you in charge. E-Maxx retains its plush long-travel suspension for taming the toughest trails and waterproof electronics keep the fun going even when the trail turns muddy or wet. It's time you experienced monster truck action the Traxxas way! Bold, tough, and insanely overpowered-that's the E-Maxx Brushless Edition!

Features
Traxxas Stability Management®
Self-Righting
30+mph with 2-7cell NiMH packs, 65+mph on 6S LiPo! (batteries sold separately)
TQi 2.4GHz Radio System
High-power 2200Kv motor
Factory-installed waterproof MXL-6s Brushless Power System
Waterproof electronics for all-weather driving excitement in water, mud and snow!
TSM Benefits
TSM makes Traxxas vehicles easier to drive, particularly on loose surfaces
TSM makes driving more fun by allowing the driver to accelerate harder and drive faster with much greater control
TSM works to stabilize vehicles over rough surfaces as the gyro effect of the spinning front tires continues to "steer" when the vehicle is in the air
TSM dramatically improves braking performance, preventing the vehicle from spinning out
TSM allows faster cornering speeds
TSM never restricts throttle (or fun!)
TSM allows the driver to accelerate harder when exiting a turn
TSM works invisibly in the background
The driver maintains their connected feel with the vehicle
The amount of TSM assistance is fully adjustable
TSM can be turned off or adjusted from the TQi Transmitter
TSM is fully compatible with optional Traxxas Link
TSM does not require any complicated set up or instructions.
The World's Most Advanced Ready-To-Race® Radio System
E-Maxx Brushless is equipped with the world's most advanced Ready-To-Race®radio system. The all-new Traxxas® TQi™ arrives with a full complement of tuning features and offers the unbeatable convenience of "no channels, no crystals" 2.4GHz technology—but that's just the beginning. Automatic model recognition instantly recalls your settings for up to 30 Traxxas Link-enabled models. Just switch on and drive, no naming or "model memory" settings required. Power up the transmitter and the model you want to drive, and the settings for that model are dialed in immediately! The new TQi 2.4GHz transmitter is fully adjustable: steering and throttle end points can be set precisely, and the Multi-Function knob can be programmed to control Steering Sensitivity (Expo), Throttle Sensitivity (Expo), Steering Percentage (Dual Rate), Braking Percentage (Dual Rate), or Throttle Trim. TQi's ergonomic case design provides all-day driving comfort, and the unique internal antenna contributes to its sleek, modern look.
Waterproof MXL-6s Power System
This heavy-duty setup includes a 2200kV motor for full 6S LiPo (25.2 volts max) compatibility, which gives E-Maxx the ability to exceed 65mph with wheel-lifting torque and brutally quick acceleration. The MXL-6s controller features a cooling fan and heavy-duty construction with oversized 6.5mm connectors to eliminate "thermaling," and the motor uses a 5mm rotor shaft for added durability. It's all waterproof for no-worry fun in wet conditions that send other trucks running for cover!
Send Inquiry