FORD RAPTOR OBA | T58064-2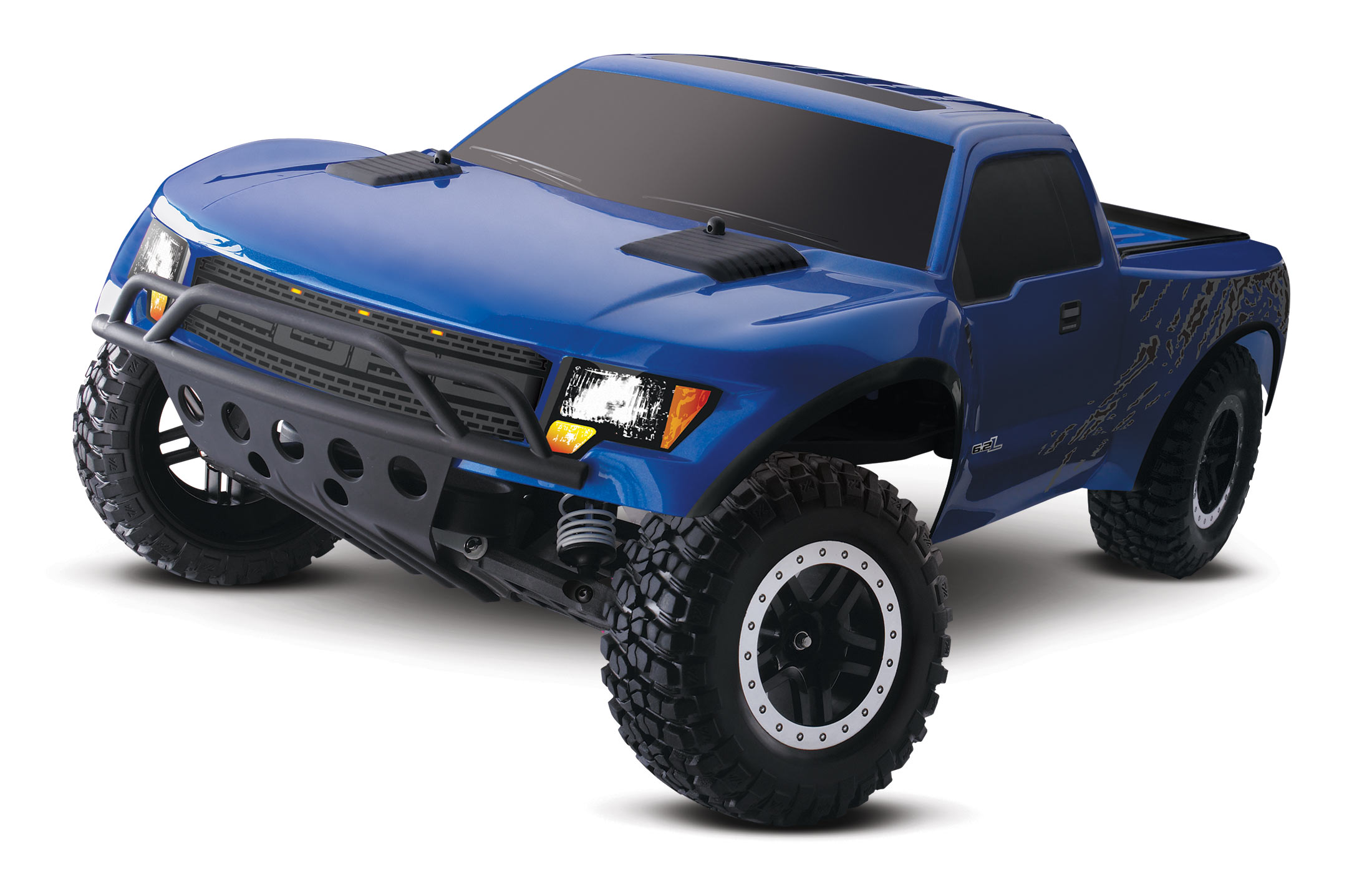 Ready-To-Race® with TQ 2.4GHz Radio System
On-Board Audio System
The On-Board Audio System uses sound that has been sampled from Traxxas team trucks, including the Traxxas Pro 4 short course truck driven by Traxxas' Mike Jenkins. The ON/OFF button and volume controls let you adjust the system settings, stealth mode to wide-open. The system uses a minimal amount of power from the battery so your runtime is not compromised. The intuitive sounds respond to throttle input from the transmitter. Cruise around or rip full-throttle to hear the difference in engine RPM. If you're stopped for more than 10 seconds, the engine will shut off. Just tap the throttle to hear the engine fire back up! Use the rocker switch on the included 3-channel transmitter to shift to "neutral" and hear the engine revving. Flip the switch, and launch back into racing.

Precision 2.4GHz Control Radio System
With the TQ™ 2.4GHz radio system, you just switch on and drive. There are no channels or frequencies to manage, so the focus is on having fun. The TQ's ergonomic design is comfortable for all-day driving, and lightweight with just four AA batteries on board (batteries not included). The TQ scores on style with its black-chrome wheel and smoothly integrated handle, and the internal-antenna design gives the transmitter a sleek profile while shielding the antenna from damage. 
4amp DC Peak Detecting Fast Charger
For quick, convenient, hassle-free charging, a 4amp DC fast charger is included to maximize runtime and minimize down time. The included NiMH charger uses a 12-Volt DC power outlet for universal high-output charging. The brilliant LED provides charging status as soon as the battery is connected. The charger is optimized for charging your Traxxas iD Power Cell NiMH battery. Peak-detection circuitry makes sure the battery receives a full charge every time. The status LED flashes green to indicate when charging is in progress, then turns solid green when charging is complete for foolproof charging, peak performance, and maximum runtime.
Traxxas Power Cell NiMH Battery with iD
The Traxxas Ford Raptor includes a Traxxas iD™ Power Cell™ Battery Packs are optimized for free-flowing power and maximum punch with premium quality, low-resistance cells; flexible, silicone-jacketed 12-gauge wire; heavy-duty welded tabs; and Traxxas High-Current Connectors. Traxxas iD chargers (sold separately) auto-detect iD-equipped Power Cell batteries and automatically set and optimize charge settings. Precision assembly with attractive, individually wrapped cells and clear overwrap complete the package.
QUICK FEATURES ON THE FORD F-150 SVT RAPTOR REPLICA (#58064-2)
Officially licensed paint and graphics, Ford F-150 SVT Raptor Replica body

NEW

On-Board Audio
TQ 2.4GHz Radio System
4-amp DC Peak Detecting Fast Charger
Traxxas Power Cell NiMH Battery with iDTM
Titan® 12-Turn 550 modified motor
XL-5 waterproof electronic speed control
Water-sealed receiver box and steering servo
Metal gear Magnum 272™ transmission
Revo®-spec torque-control™ slipper clutch
Adjustable steel turnbuckles with captured rod ends
Scale ProGraphix® truck body
The tires are mounted on satin-finish 2.2" Slash wheels
Powder coated progressive rate white springs
The ESC and receiver mounted directly to chassis
Included optional 23-tooth pinion gear
Send Inquiry