Wing-Tiger Trainer V3 R/C Airplane (Wing Leveler System) | ART2120F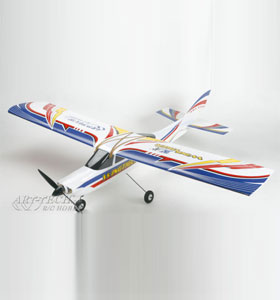 Product Overview
Art-tech's latest Wing-Tiger Trainer V3  is a 500 class EPO trainer , including the Wing Leveler System with stable flight, with module design and easy to assemble, steerable nose wheel and maneuverable on the ground and easy to take off, brushless motor with strong power!
Features
With the aim to lower the crash incident maximally, Art-Tech team developed an Wing Leveler System especial for airplanes.
The device can balance the model automatically during the flying, even under the windy condition.
The Wing leveler system will greatly reduce the crash incidents for the beginners, as only with enough throttle, it can keep the model balanced well.
The balancing function of the device can be shut down by transmitter easily.
Specifications
Wing Span: 1265mm/49.8in
Length: 1170mm/46.1in
Height: 334mm/13.1in
Weight: 1100g/38.8 oz
Type:EMUCA100
Operating voltage:+4V~+ 6 V DC
Reaction time:1/60 seconds.
Balanceable Difference:<2°
Flying condition:All-weather(But it may perform not very well in rainy,foggy, haily,snowy day)
Configuration
R/C System: EFLY-6C/6CⅢ 2.4GHz
Wing leveler system Type:EMUCA100
Motor: DAT-1000 Brushless 
Battery: 11.1V,1800mAh Li-poly 
ESC: 30A brushless
Servo: 9g×4
Send Inquiry