XB FORD BRONCO 1973 (CC-01) | 57818-900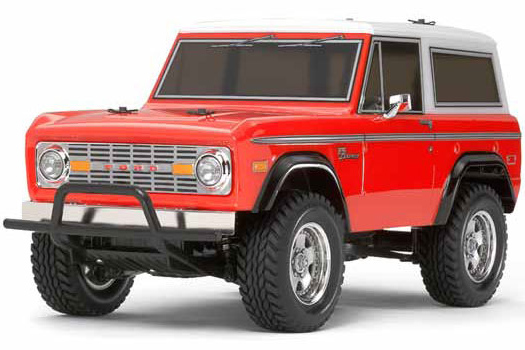 Product Overview
The Ford Bronco is a famous American 4X4 off-road vehicle. This 1970's model was among the first series called "Early Bronco" which were produced during 1965-1977. Three types of bodies were released; the fully-open "Roadster," the single cabin pick-up "Utility," and the "Wagon" which had a resin roof. The body featured triangular protrusions on both sides on the curved front hood which worked well as a guide for drivers to accurately measure the body size while driving. The front suspension features coil springs combined with the rigid axle, which was a first for mass-produced 4X4 vehicles and works well both on-road and off-road. The Bronco is still greatly popular around the world, particularly in America, where many are used as cross-country and rock crawling vehicles.
Features
Polycarbonate body finished in Red.
Long-stroke suspension system consists of front double wishbone and rear 4-link rigid set-up and is equipped with 4 oil dampers.
Highly reliable and efficient full-time 4WD system features a front –mounted motor, which transmit power to the front wheels via the gearbox and to the rear wheels via the propeller shaft with universal joints.
Tamiya Finespec FM R/C system pre-installed.
Front and rear 3-bevel differentials enable smooth cornering
F/R light cases are equipped with LEDs to depict realistic head (white) and tail (red) lights.
Specifications
Scale: 1/10th Scale 
Construction Type: RTR (Ready-to-Run)
Terrain Use: Multi-purpose
Drive-train: 4WD
Drive Type: Multi
Drive Line: Dog Bone
Differential Type: Gear
Suspension: Independent front/solid axle rear
Steering Mechanism: Bell-crank
Shock Damper: Oil-filled Damper
Shock Damper Material: Plastic
Tire Type: Rubber
Tire Tread: Radial
Body Material: Clear Polycarbonate
Send Inquiry