XB LAND CRUISER 40[CC-01] | 57810-000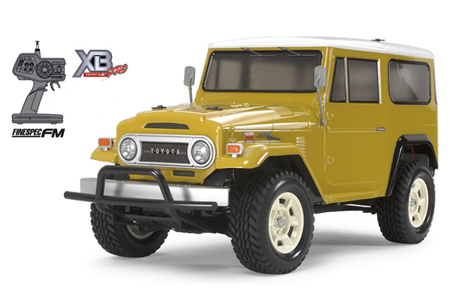 Product Overview
Classic Off-Roader Of the many iterations of the Toyota Land Cruiser, the 1972 Land Cruiser 40 is particularly popular thanks to its attractive styling and has a large fan base around the world. This ready-to-run R/C model's body is made from ultra durable polycarbonate and is beautifully finished in Mustard Yellow with the roof and rear fenders painted in white and black respectively. The actual vehicle's oval radiator grille, blinkers, front bumper, and side mirrors are accurately reproduced to provide a realistic scale appearance. In addition, LEDs to depict head (white) and tail (red) lights are included to further enhance its presence R/C units are installed onto the pre-assembled chassis and a wheel-trigger type transmitter, battery pack & charger are included to allow you to enjoy R/C driving instantly. The FM transmitter features detachable grip covers to match your hand size as well as a throttle trigger cover to increase the size of the throttle trigger for easier operation. (*Battery pack and charger are included for Japan market only.)
Features
Durable polycarbonate shell captures the famous form of the Land Cruiser.
Parts such as the front bumper and accurately scaled 35" tires provide a realistic scale presence.
Features
Large-sized block tires with realistic tread pattern are installed onto white ABS resin wheels.
The Land Cruiser 40 is based on the tough CC-01 chassis which is equipped with a front independent double wishbone and rear 4-link rigid axle suspension setup, allowing you to enjoy exciting cross-country, off-road, and on-road R/C action.
Features
LEDs to depict headlights (white) and taillights (red) are included.
FM Finespec radio system included.
Specifications
Length: 426mm
Width: 195mm
Height: 215mm
Wheelbase: 252mm.
Scale: 1/10
Construction Type: RTR (Ready-to-Run)
Terrain Use: Multi-purpose
Drive-train: WD
Drive Type: Gear Box
Drive Line: Solid Axle
Specifications
Differential Type: Gear
Suspension: Independent front/solid axle rear
Steering Mechanism: Bell-crank
Shock Damper: Oil-filled Damper
Shock Damper Material: Plastic
Tire Type: Rubber
Tire Tread: Radial
Body Material: Clear Polycarbonate
Chassis Material: Plastic
Required
Charger
Battery Pack
8 x AA Batteries
Tools
Send Inquiry