XG6 WITH RG631 M2 |JVGC620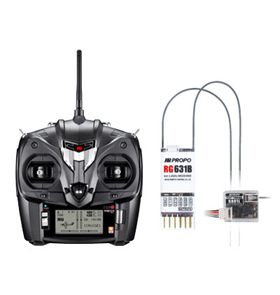 Product Overview
The High performance basic model now available on the XG series.
The first in the basic model !  The all new high -performance 6ch radio including glider mode, XG6 is now available.The excellent basic model with full-featured Telemetry system.
The new DMSS system offers the high-speed performance.
Easy viewed graphic LCD display and easy dial input.
The high grip performance with ultra lightweight ergonomic body.
Sophisticated programmings for full Telemetry features.
AA batteriws type power saving technology transmitter.
Specifications
System: DMSS/Computer Mixing
RF: 2.4GHz
Numver of channels: 6ch
Nutral position: 1.5ms
Weight: 650g
Power source: 4 x AA size alkaline dry cell batteries (not included)
An optional 4 cell 4.8V NI-MH Battery is available for purchae (4H1500mAh or 4H2000mAh)
System List
20 Model memory (can be extendable by using Micro SD card )
Model Copy & Erase
Model Type Select
Model name 8characters
Flight Mode Name
Trim System
TX Setting
LCD Contrast Adjustment
(ENGLISH/DEUTSC/FRANCE)Language Select: (Englsih, German, French)
Low Battery Setting: (Ni-MH4.6V, Drycell:4.2V)
Idle Alert
Sound Mode
Stick Calibration
Software version
Trainer System
Bind & Range check
System List
Telemetry Setting
RX Battery Alarm
Temperature Alarm
Rotation Sensor (Gear ratio
Number of Props
Delay)
Delay
Altitude 3pattern of alarm settings
Vario Meter (NA)
Flight Pack Voltage Alarm
Flight Pack Capacity Alarm
Fail Safe
Device Select
Throttle Stick Direction
Stick mode Mode1,2,3,&4
Function List
Dual rate & Exponential
Right & Left Travel Adjust
Sub trim
Servo Reverse
Program Mixing 3systems
Timer: 1system
Mixing Monitor
Servo Monitor
Another Function
My list Quick Wizard
Touch Select Function
Telemetry Indication
Advanced Digital Trim
Trainer Input Socket Jack
Micro SD Card Slot
Graphic Display
Stick Spring Tension Adjustment
Send Inquiry