XG11 DIGITAL TRIM WITH RG1131B MODE 2 w/2F-1400, NEC-A912A | JVGC1113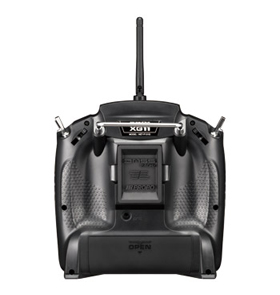 Product Overview
The world most advance 11 channel 2.4ghz Dual Modulation Spectrum System. Titanium black color plating offers a robust, durable finish. Ergonomic modern cse design offers the best grip, comfort and balance. Easy viewing high resolution back lit display. FH-SS Technology offers the best reliability in 2.4Ghz technology. Built in telemetry function provides in-flight information. Updated programming software satisfies the needs of experts Helicopter, Airplane and Sailplane Pilots.
Key Features
3 Axis Gyro mode allows user friendly setting of Flybarless Helicopters.
Mixing Curve mid-point adjustment has been increased from 3 points to 5.
Multiple applications for Stick Position Switch.
Much anticipated, user friendly "Balance" function.
User friendly Device Select.
Technical Data
System: DMSS/Computer Mixing
Channels: 11
Weight: 960g (Including battery)
SD card equipped, enables data conversion between models (corresponds to DSX11, 11X ZERO, XG8)
Transmitter: Titanium Black plating
TX Battery: 2F1400 (Li-Fe)
AC/DC adaptor: NEC-A912 Four type of plugs available to cover most nations
Bind plug
Throttle ratchet spring
Send Inquiry