XG8[DMSS]GE BLACK/SILVER WITH RG831B | JVGC803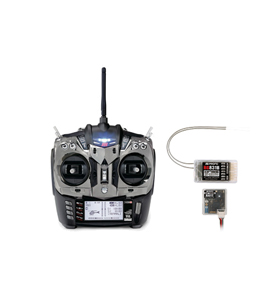 Product Overview
The middle class radio conquering World Titles...The best performer in the middle class transmitter line up! The most advance 8 channel transmitter in the world featuring 2.4ghz Dual Modulation Spectrum System (DMMS). Powerful software for complex models. Tiltes stick angle provides great ergonomics fro your control feel.
Key Features
Integrated Helicopter, Airplane and Glider mode.
30-model internal memory
Large graphical screen with backlight
Extremely light weight transmitter case with perfect balance.
It only weighs 770 grams with the Li-Fe battery installed.
4 user-selectable control modes (Mode 1, Mode 2, Mode 3 and Mode 4)
Includes RG831B 8channel high-speed Receiver with an extra telemetry module.
The new JR Intelligent Output System automatically selects which control signals should be
transmitted at exactly the same time.
JR Jog Dial and 4 enter key interface for easy programming.
Integrated SD card slot enables model data sharing, expanded storage and software updates.
Key Features
For example, the three channels of a CCPM swash plate or a 4 servo aileron wing type.
It transmits the data for these channels as one complete signal frame.
Thus, there is no time delay between channel data transmission for these critical functions.
Features the DMSS advanced telemetry system which gives you real time feed back of
information from the aircraft such as receiver voltage, flight pack voltage,
r.p.m. of the motor propeller or rotor blades, temperature, and variometer/altimeter in the future.
The possibilities are almost limitless.
The charging circuit is integrated in the transmitter, so you only need to plug in the 9.0V AC/DC adaptor. The charging unit automatically detects a full charge and shuts off automatically.
Key Features
Side-lever controller on both side of Transmitter.
Touch Select System for switch selection.
2 type of trim selection for 4 controllers.
(THRO/ Normal for EP or Idol for GP)
(AILE/ELEV/RUDD/ Normal or Limited Stroke Trim to protect your linkage)
User selected menu for frequently used functions.
Fail safe position for each 8 channel.
User-assigned switch function
Programmable throttle cut
Programmable 2 independent timer.
JR advanced intuitive programming interface.
AC adapter can be used for not only charging but programming, and playing with flight simulator.
Technical Data
System: DMSS/Computer Mixing
Channels: 8
Weight: 770g (including battery)
SD Card equipped, eables data conversion between models
Transmitter: 2 colors available (black and silver chrome)
TX Battery: 2F1400 (Li-Fe)
AC/DC Adaptor: NEC-A912
Bind Plug
Throttle rachet spring
Send Inquiry