BAJA BUGGY Q32 RTR | HPI114060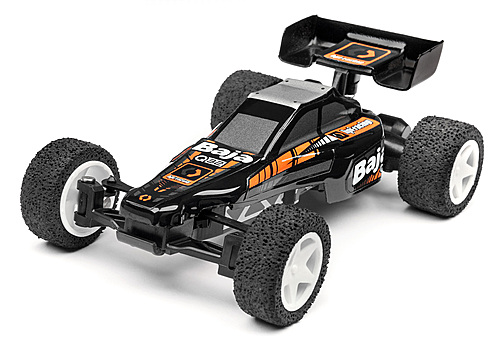 Product Overview
The Q32 chassis is the smallest member of the HPI family, and it's the ideal way to get your RC fix on rainy days or when you're stuck in the office! Enjoy Baja-style action and stunts, indoors and out, on tabletops, floors and anywhere you like! The Baja Q32 is perfect on tile, wood and carpeted floors, making it great fun to race with friends and family!
Fitted with grippy foam tires and a direct rear-wheel drivetrain, it's light, nimble and FAST! At just 109mm (4.3") in length and 76mm (2.9") wide, it's ideal for speeding about in the smallest of spaces! We've also included 8 corner markers and even a cool mini-ramp to get you started making your own custom stunt park! The Q32 features awesome "Real Steer", which means the car drives just like a larger RC car!
Features
Perfect Steering Control
Real RC Radio
Simple Battery Recharging
Easy Steering Adjustment
Spares- Like real hobby-level RC cars, the Q32 can be repaired with a supply of spare parts
Options- Swap out your tires, throw in high speed gears and bolt on the stability adjustment set! Plus optional clear bodies allow you to customize your Q32 for better performance, extra speed and a whole new look!
Specifications
Length: 110mm
Width: 75mm
Height: 44mm
Wheelbase: 82mm
Send Inquiry