CHARGER FOR LIPO/LIFE/NiMH/NiCd/Pb (AC/DC)-80W X 4 LIPOS | Q6320AC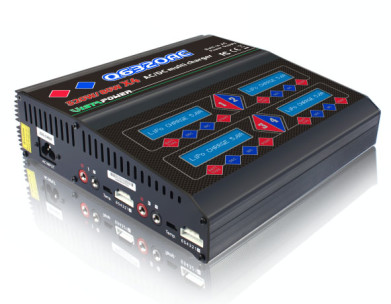 Product Overview
It is a quad AC/DC charger, it could charge four packs of batteries at the same time and display data of each port singly. With two independent output and temp port, two cooling fans could help charger cool down efficiently. With AC/ DC input , two independent output and temp port . In temp port you could connect charger and PC with USB software kits to monitor and analysis battery performance completely.
Features
Create a safe charging condition and maximum reduce the danger caused by negligence or setting error of user.
High efficiency up to 90%.
Accept all types of R/C batteries: LiPO/LiFe/NiMH/NiCd/Pb.
Easy to operate.
It can monitor and balance each cell of the pack individually ( tolerance ±0.01V).
Accept individual battery charging/discharging.
Various of charging mode to meet different demand.
Perform 1-6 cycles of charge>discharge or discharge>charge continually for NiMH/NiCd refreshing
PC program, you can analysis the characteristic of the battery by USB port.
Specifications
AC Input voltage: 110or220V
DC Input voltage: 11-18.0V
Charge power: max.80W*4
Discharger power: max.8W*4
Charge current range: 0.1-7.0A
Discharge current range: 0.1-2.0A
Balance tolerence: ±0.01V
NiCd/NiMH battery cell count: 1 - 15cells
LiPo/LiLo/LiFe battery cell count: 1 - 6series
Pb battery voltage: 2 V - 20V
Digital Power: 3V - 24V
Operation system: graphical display
Send Inquiry