F-14 Jet Ducted Fan R/C Airplane | ART21291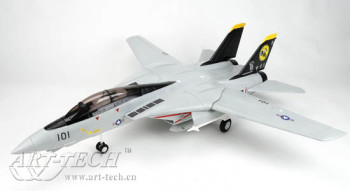 Product Overview
The First variable sweep wing scaled Jet from Art-Tech.
Features
High scaled variable sweepback main wing, the sweepback of the wing can be changeable during the flight, simple structure and high secure reliability.
Tail wing is made up of double vertical wing and differential united horizontal wing, the differential horizontal wing can be used for aileron;
High scaled appearance with missile, missile holder and auxiliary oil box, luxuriant and beautiful painting.
With EPO foam and Fiberglass composite material structure, incredible intensity, strong and durable enough even in a crash.
Configured with a removable landing gear;
High scaled combination cabin, with blow moldings seat;
Dual out runner electronic ducted fan, with strong power.
With stable flight performance, easy to control and maintain.
With the design of hidden ducted power supply wire, which can reduce the resistance and increase the efficiency;
With the high scaled dual wheels structure for the front landing gear, and with beautiful appearance.
With the magnet adsorption design for the auxiliary oil box, easy to assemble and remove.
Specifications
Wingspan:1000mm/39.4in
Length:980mm/38.6in
Weight:1100g/38.8 oz
Thrust:820g/28.9 oz
Configuration
R/C System:EFLY-6B 2.4GHz
Motor:Out runner Brushless Motor(2315)
ESC:20Ax2
Battery:11.1V ,2200mAh 20C
Servo:9gx5,17gx1
Send Inquiry