FS-110 [60Y] W/F-5040 SILENCER | 35410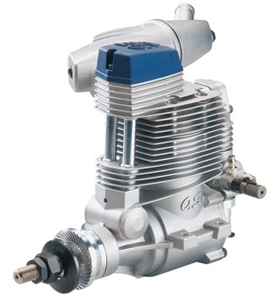 Product Overview
You don't compromise, and you don't want your engine to, either. The FS110-a doesn't compromise on performance, delivering 12.5% more power than the FS-91SII in the same space! But high-performance doesn't mean high-maintenance. Engine blow-by is trapped and re-used to constantly lubricate and bathe the engines working parts inside reducing friction and prolonging engine life. Plus, the new system eliminates messy cowls and other oil drainage. What's left is a first-rate engine that sets new standards and exceeds all expectations. It's the FS110-a from O.S. - the 4-stroke with muscle.
Features
The adjustable F-5040 muffler can be rotated 360° and moved in or out for a perfect fit. Rich, deep sound is an added benefit.
Features the same mounting bolt pattern as the FS-91SII for easy replacement.
A reversible carb and narrower camshaft housing simplify installation.
Tighter tolerances and updated engineering reduce maintenance and ease set-up.
Delivers more performance power to sport pilots and more realistic flight to scale pilots.
Technical Data
Displacement: 1.10 cu in (18.0 cc)
Bore: 1.196 in (30.4 mm)
Stroke: 0.976 in (24.8 mm)
Practical rpm range: 2,000-11,000
Output: 1.77 hp @ 10,000 rpm
Engine weight: 19.2 oz (600 g)
Muffler weight: 2.3 oz (72 g)
Includes: 60Y carburetor, F-5040 muffler & F glow plug
Suggested Props
Sports and aerobatic 13x6, 12x6-8
Scale; 13x6-7 12x6-8
Send Inquiry