KEN BLOCK FORD FIEST RX43 MICRO RS4 | HPI115387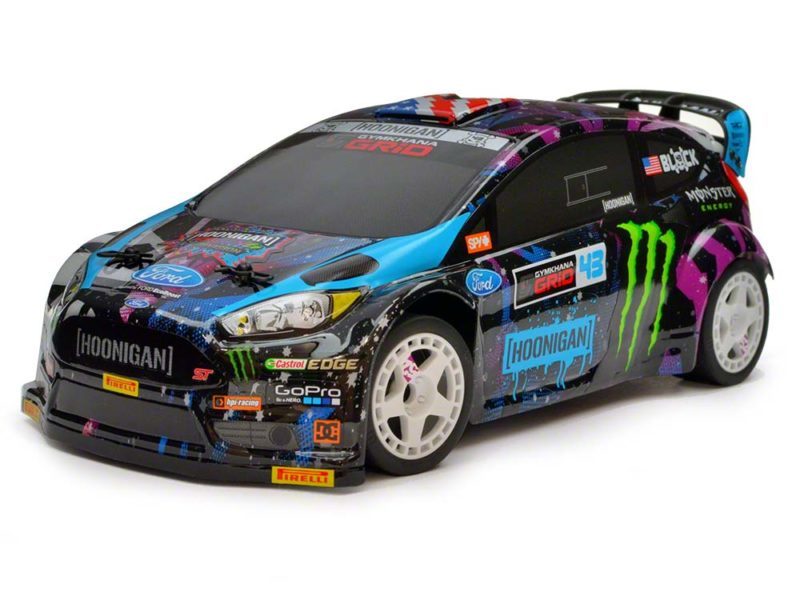 Product Overview
Now you can get your hands on the latest officially licensed Ken Block replica car: the Ken Block Ford Fiesta RX43 Micro RS4! This is a perfect scale 1/18th replica of Ken's full-size race car that has been amazing fans in head-to-head competition around the world!
This 4WD 1/18th scale RC car is perfect for shredding tires inside and outside, with a high-powered motor driving all four wheels and coil-over shocks providing smooth power and excellent control. This Ready To Run kit features a highly detailed scale replica Ken Block Ford Fiesta RS43 body and replica fifteen52 Turbomac wheels for an awesome scale look wherever you drive!
The HPI Micro RS4 is powered by an HPI 180-size motor and also features real rubber racing tires, quick-swap battery holder, an electronic speed control, full time 4WD belt drive and a waterproof steering servo. It's ready to blast around race tracks just like Ken Block's full sized Ford Fiesta RX43!
Features
Officially authorized replica of Ken Block's "Intergalactic"
Ford Fiesta ST RX43
Pre-Built, Ready to Run 1/18th scale racing car
Drives just like a larger RC car!
4WD for maximum control and speed
Belt drivetrain for efficient power transfer to front wheels
Double-wishbone independent front suspension
Features
Coil-over inboard cantilever front shocks
Real rubber slick racing tires
Front universal dogbones
Front and rear gear differentials for ultimate cornering grip
Fully equipped with ball bearings for maximum efficiency
EN-2 electronic speed control for total control
2.4GHz radio system for long range reception, no frequency crystals needed
Features
Ergonomic pistol-style radio transmitter with steering wheel
180-size motor for fast speeds and quick acceleration
6v 1200mAh battery for long driving times and plenty of power
AC wall charger included for extra convenience
4 AA batteries included for transmitter
Specifications
Length: 227mm
Width: 110mm
Send Inquiry