KYOSHO MP9 INFERNO TK13 SPEC-A | 31789B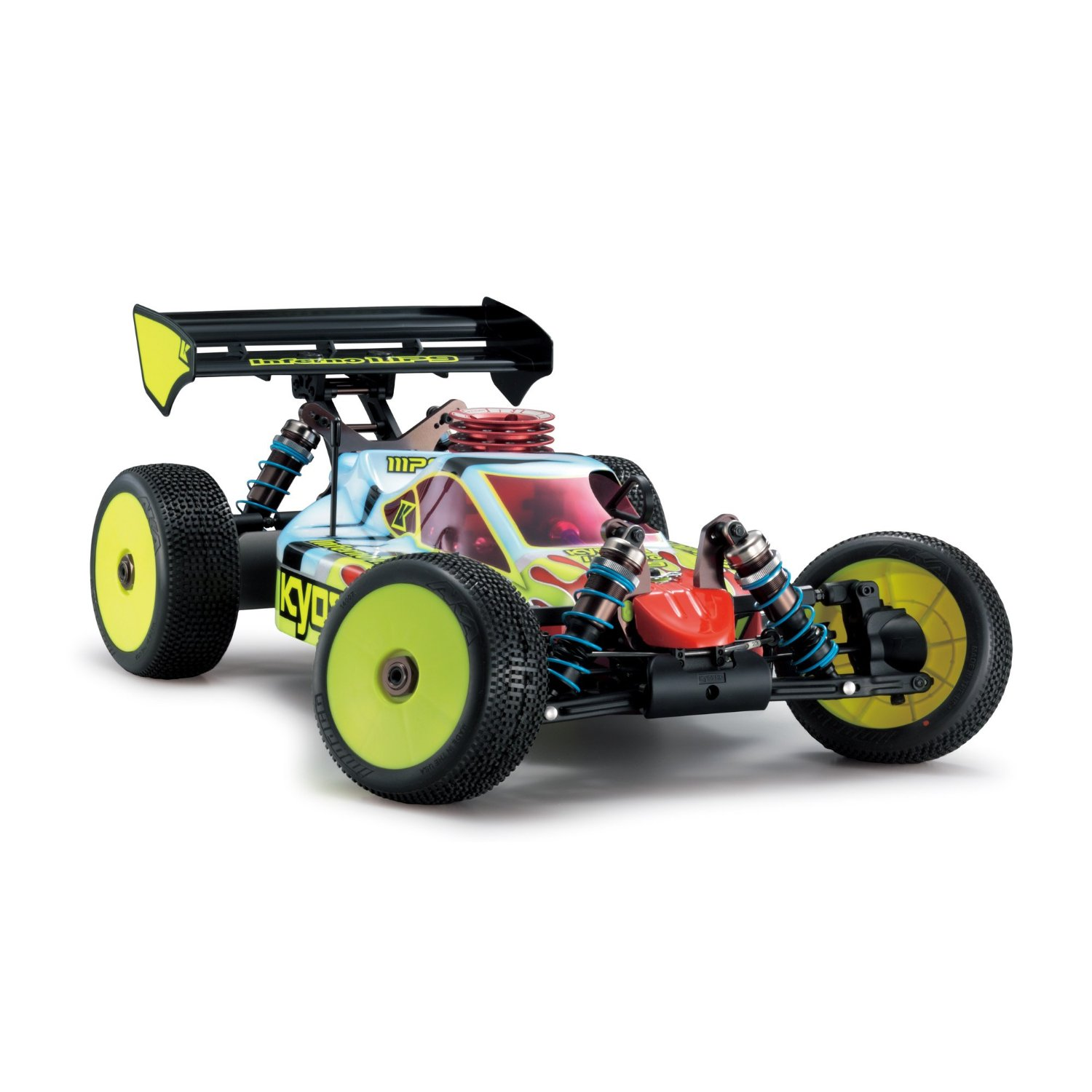 Product Overview
This is the Kyosho Inferno MP9 TKI3 "Spec A" Competition 1/8 Scale Nitro Off-Road Buggy. The TKI3 is now available factory assembled with a race ready setup and pre-trimmed body. The kit is assembled in the Kyosho Japan Headquarters built by experienced staff and given the final look over by the MP9's godfather designer Yuichi Kanai. Once you paint the body and install your gear, the MP9 TKI3 "Spec A" buggy is ready for the track. All other specifications between the "Spec A" and the standard TKI3 stay the same.
The time has arrived to experience the Inferno's legendary racing performance. With a total of 8 Off-Road World Championship Victories, including A Main Hobbies-sponsored team driver Cody King's triumph in 2010, the Kyosho Inferno series has established an unrivaled record of success. Tested at numerous international racing events, and proven with Jared Tebo's dominating performance at Neo 2012, design upgrades in multiple areas have elevated the MP9 chassis to another level.
Standard Features
Threaded Big Bore Shocks
MP9 Wheel
Tapered Shock Pistons
Improved King Pin Design
Redesigned Arms
Aluminum Wing & Radio Posts
Suspension Bushings
Aluminum Rear Hubs
Body Design
Air Filter
Standard Features
Ultra Low C.O.G
More Down Force
7075 Grade Aluminum
Hard Anodized Components
Composite Torque Rods
Endless Adjustments
Upright Servo
Extremely Light Weight
Fuel Tank
Wraparound Side Guards
Standard Features
Equipped With Mud Guards
Kyosho Has You Covered:
Hex Screws
Weight Balance
Suspension Design
Increased Diff Case Capacity
Optimal Race Settings
3 Differentials = Real Time 4WD
All made in Japan!
TK13 Features
HD Universals: 3.5mm thick swing shafts, much stronger than the previous version.
Heavy Duty Shock Tower: Strengthened front shock tower features thicker construction giving you the ability to handle what ever your local track can dish out. Similar to what was used during the IFMAR 2011 Worlds.
TK13 Features
Redesigned Battery & Receiver Box: Redesigned molded battery and receiver box, which is compatible with the KO Propo switch.
Redesigned Servo Tray: Servo tray allows for precise, effective and linear linkage movement.
Move Up: The radio tray has also undergone change which now allows for easy servo maintenance and replacement.
Spec A Features
Factory Assembled
Race Ready
Pre-Cut Clear Body
Specifications
Scale: 1/8
Length: 490mm (19.2in)
Width: 307mm (12.0in)
Height: 180mm (7.0in)
Wheelbase: 325mm (12.7in)
Ground Clearance: 28mm (0.8in)
Gear Ratio: 11.7:1
Weight: 3,300g
Includes
Assembled TKI3 Kit
Clear Pre-Cut Body
Wheel Set
Decal Sheet
Instruction Manual
Needed to Complete
2-channel, 2-servo R/C System for cars
21-class Engine & Tuned Pipe
Engine starting tools
Batteries for R/C system
Tires, Inserts & CA Glue
Fuel & Fuel Bottle
Polycarbonate Paint for Body
Shock Fluid
Tools for Assembly
Send Inquiry