POLE TRAILER | 56310-600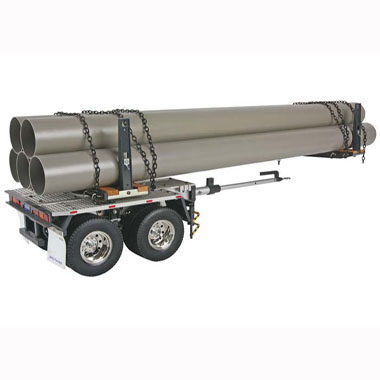 Product Overview
The Pole-Trailer is able to carry pipes of various lengths due to its collapsible pole. The trailer also features an aluminum chassis and 4 highly detailed wheels. 5 plastic pipes of 55mm in diameter and 75cm in length are included.
Features
Metal ladder-frame chassis made of aluminium profiles
Double axle rigid axle suspension with leaf springs made of metal
Two stakes for trailers and tractors
Chrome Wheels with cushion.
Specifications
Scale: 1/14
Rear Tread: 5.43 inches (138mm)
Suspension: Solid Axle
Length: 27.91 inches (709mm)
Weight: 5.62lbs. (2550g)
Damper Type: Metal friction
Width: 7.32 inches (186mm)
Chassis: Aluminum ladder
Wheels & Tires: Chrome/Radial
Required
4ch Radio sys.
Charger
Battery Pack
TS Spray
8 x AA batteries
Glue
Tools
Send Inquiry