VIPER JET RED PNP | TD-01A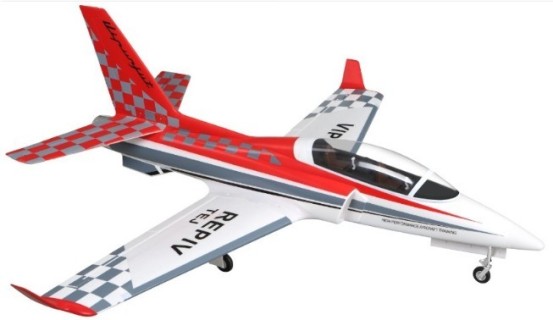 Product Overview
This stunning new electric ducted fan model is perfect for the flyer who wants all the performance and presence of a jet turbine model but without any of the complications, risk or expense that go with jet engines. The combination of a high power brushless motor and specially designed 11 bladed 90mm fan give you the power and authentic jet sound to match the superb looks of this model.
The flight envelope is awesome, as you would expect from a model this good looking and you will find it a pleasure to fly. Don't worry about the landings either as the Viper Jet will slow with the flaps and remain composed giving you the chance to show off your perfect landing skills.
Fitted with 11 servos as standard and the latest in electronic retracts all you need to add is your receiver of choice and a battery. The retracts system features sequenced doors that open before the legs come down and then close once the wheels are tucked away.
Features
90mm 11 Blade Fan
Brushless Motor
Electronics Pre Installed
Retracts and Sequenced Doors
Working Flaps
Super Stable in Flight
EPOFLEXY Construction
Specifications
Wingspan: 1450mm/ 57 in 
Lenght: 1274mm / 50.2 in 
Ducted Fan Unit: 90mm / 11 blades 
Motor: BL3541 Ducted Fan Motor, 1450 KV 
ESC: 80-Amp BEC Brushless ESC
Servos: 11pcs 9g Digital & Metal Gear
Battery type: 5000mAh 22.2V 6-cell 30C Li-Po 
Landing Gear: Retractable Metal landing gear 
Flying Weight: 3050g/ 107.6 oz 
Radio system: 6CH
Send Inquiry