XB PORSCHE CARRERA RSR (TT-02) | 57866-900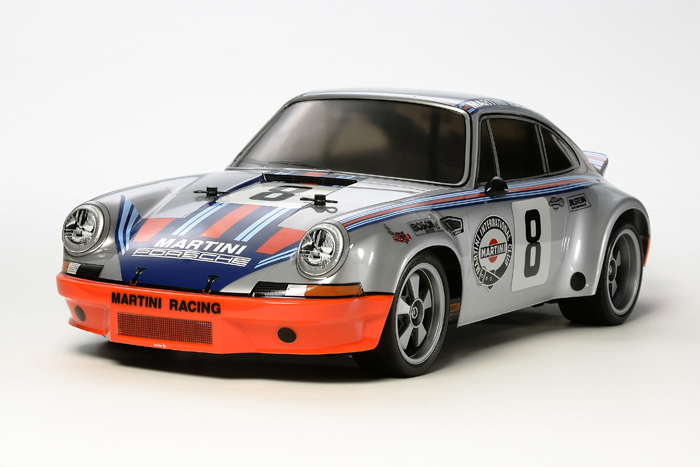 Product Overview
This is a fully factory assembled and ready-to-run R/C model of the Porsche 911 Carrera RSR. The painted and finished super detailed polycarbonate body is mated to the easy to maintain TT-02 4WD on-road chassis platform. The TT-02 chassis features a 4WD drive drive-train with fully independent double wishbone suspension. The pre-installed 2-channel radio gear system operates on 2.4Ghz technology which allows you to run your vehicle anywhere without the need to worry about other R/C enthusiasts nearby. 
The TT-02 is the new standard in Tamiya's entry level cars. The skid-shaped lower deck enables a greater roll movement range during cornering, and the 4-wheel double wishbone suspension is equipped with identical left/right suspension arms and uprights, making maintenance and assembly a simple task. The drivetrain features a motor mount which allows up to 10 different gear ratios as well as front and rear enclosed gearboxes equipped with resin 4-pinion differentials.
Features
TT-02 Chassis
Tamiya Finespec 2.4GHz R/C System is pre-installed.
TEU-105BK ESC (equipped with BEC) comes pre-installed.
Painted and finished body set
Wide Rear Tires for authentic look.
Specifications
Scale: 1/10
Construction Type: RTR (Ready-to-Run)
Terrain Use: On-Road
Drive-train: 4WD
Drive Type: Shaft
Drive Line: Dog Bone
Differential type: Gear
Suspension: Fully Independent Double Wishbone
Steering Mechanism: Bell-Crank
Shock Damper: Friction Damper
Shock Damper material: Plastic
Tire Type: Rubber
Tire Tread: Slick
Body Material: Polycarbonate
Required Items
7.2 Battery & Charger
AA Batteries
Send Inquiry