DA-85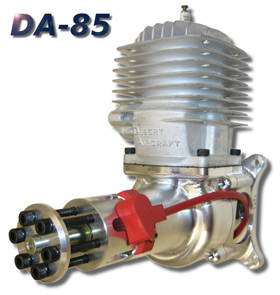 Product Overview
Ultimate Power in its class ! 
The all-new DA-85 combines the low weight and the affordable price of an single-cylinder-engine with the power usually only 100cc engines have. The perfect choice for your 35% sized airplane.
Features
Desert Aircraft, auto advance, electronic ignition.
CNC milled, 7075 aluminum alloy crankcase.
Long rod to stroke ratio.
Walbro Carburator
Low vibration.
Aerobatic power curve
Exclusive Desert Aircraft designed cylinders, pistons, and crankshaft.
Most torque in its class.
DA engines are designed using the latest tools and techniques, including 3D CAD and Stereo Lithography.
Technical Data
Displacement: 5.24 ci (85.9 cc)
Weight: 4.3 lbs (1.95 kilos)
Stroke: 1.59 in (40.49 mm)
Fuel Consumption:  2.2 oz/min @ 6,000 RPM
Send Inquiry